Safety is an intricate part of our day-to-day life and is especially vital within the workplace. It's easy to take for granted that we go to work and come home safely each day. Many are not that fortunate. Especially in the construction industry, safety is a daily challenge for construction companies, specifically regarding falling hazards.
The Reality of Falls in the Construction Industry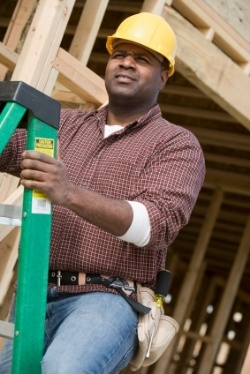 Did you know that falls in the construction industry are the leading cause of death? In 2012, 279 of the 806 recorded deaths in the construction industry were due to falls. Falls can be prevented through comprehensive training and the use of the right equipment for the right job. By implementing safety standards and educating your workforce of safety best practices, your organization can help to dramatically curb safety-related incidents.
What is the National Safety Stand-Down?
From May 4th to May 15th, 2015, OSHA is hosting the National Safety Stand-Down to promote cognizance within organizations regarding the dangers of falling in the construction industry. Within this two week period, the National Safety Stand-Down aims to raise awareness of all hazards that the construction industry faces, showcasing opportunities to prevent safety-related incidents. Managers are encouraged to call special attention to the Safety Stand-Down and show their employees how much they are invested and care about their well-being.
5 Tips for Planning a Safety Stand-Down within Your Organization
Have we piqued your interest regarding the creation of a Safety Stand-Down within your organization? Start with these 5 to engage your workforce's involvement:
Appoint a coordinator to plan, manage, and oversee the activity of your organization's National Safety Stand-Down.
Plan an accommodating time of day to host the event, being cognizant to steer away from break time or lunch time. This is a special event that deserves your employees utmost attention.
Provide refreshments, snacks, and a cool, inviting place to talk with your employees.
Make the topics interesting and engaging to keep your employee's attention.

Encourage suggestions and an open discussions.
Considering implementing as many of your employee's suggestions as possible. They're on the frontline of safety and have the most insight to share.
For more tips, we invite you to visit OSHA's National Safety Stand-Down website.
The Benefits of Employee Engagement During a Safety Stand-Down
Engaging with the National Safety Stand-Down is an opportune time to engage your workforce and get their valued input to serve the betterment of your organization. Put serious thought and consideration into the topics you want to discuss with your employees. Make this time beneficial for all parties involved by reviewing hazardous issues you have seen around the job site. You may also consider sharing stories of job site incidents, host a safety-related guest speaker, conduct a job site walk-through, inspect equipment, and encourage role playing of safety-related scenarios. During the process of your organization's Safety Stand-Down, it's beneficial to send your employees e-Cards to further boost employee morale and hand out Instant Award Cards for outstanding employee participation.
Join the National Safety Stand-Down Today!
We'd love to hear about your experiences engaging in the National Safety Stand-Down. Please note your experiences in the comments section below!
At C. A. Short Company, we are your partner for increased employee engagement resulting in increased performance outcomes to grow your bottom line. Our process and research-based platform help you engage your team in order to increase your bottom line, motivate your staff to the benefit of the entire organization, and reward your people for the positive changes they make. To request a Complimentary Consultation, please click here.