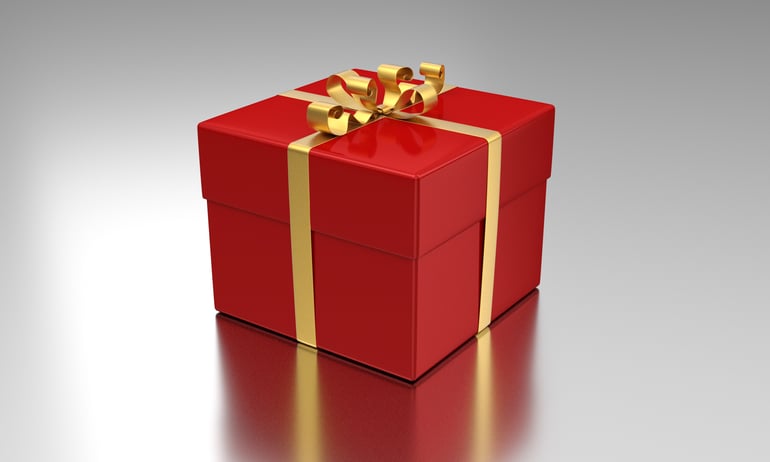 End-of-year giving is a great tool to engage your employees and ensure that the new year starts off with a bang, but not any gift will do. You need to offer something that will have a lasting impact on your team while steering clear of items that can cause more harm than good.
Our list of best and worst gifts is designed to help you do just that.
The Worst Gifts for Employees
Insufficient Gift Cards/Cheap Gifts
If you're looking to give a gift that will boost your employee engagement level, stay away from cheap gifts. Not working with a large budget? There are other ways you can leave a lasting impression (which we'll get to later in this post) without giving someone a set of cheap pens with the company's name on them. You should also avoid giving your team gift cards with a balance too low to make their desired purchase. For example, refrain from offering a $40 gift card to a restaurant that would cost $100. It just places an additional burden on your employee.
Alcohol & Food
You can hold on to those holiday hams. The U.S. workforce is changing dramatically and so are their dietary preferences and restrictions. If your boss insists on handing out food, stay away from items that can cause an allergic outbreak. This is especially true of nuts, which could cause an employee to go into anaphylactic shock just by coming into contact with the food.
Additionally, unless you know the employee very well, you might want to refrain from passing out alcohol. Some people only drink a particular type of alcohol, other's religions prevent them from drinking, and you never know who might be in recovery.
Toiletries/Beauty Products
You should stay away from any gifts that could imply you're dissatisfied with a person's appearance. After all, nothing says "you look and smell bad" quite like a bundle of soap and beauty products. Additionally, many workers are allergic to certain chemicals in fragrances, makeup, and lotions. Stay clear, or you might literally give your team a headache.
The Best Gifts for Employees
Heartfelt Thank You Cards
There are gifts you can give employees even if you're working with a small or non-existent budget. One of the most effective is heartfelt thank you cards. We're not talking a generic card with the word "thanks" on it and a quickly scribbled signature. Write something meaningful. If possible, list a specific reason why you're so thankful the employee is part of your team and mention an example of their contributions.
Gifts for the Family
Chances are the majority of your employees have families they go home to after clocking out. If possible, include them in your gift-giving efforts as well. If you don't have a budget to give a family-sized gift, consider mailing a holiday card to the employee's residence thanking the family for their contributions as well.
Instant Award Cards
The gift that will make the strongest impression and engage your employees the most is one that's deeply meaningful for them. Since you can't read everyone's mind, the best reward to give is often an instant award card. Employees can redeem these for an item they love, and every time they use or see it, they will likely think about the organization that made it possible.
This connection is why C.A. Short Company is proud to offer instant award cards as part of our People Are Everything platform. They're not just limited to the holiday season either. Our instant award cards are great to use year-round, anytime you would like to reward an employee for:
Going above and beyond

Helping their fellow employees

Reflecting the values of your organization

Achieving a career milestone

Preventing safety incidents and creating a safer work environment

Focusing on their wellbeing

Birthdays

Exhibiting excellent customer service
There are more reasons than we can possibly mention in this post, but if you'd like more information about the benefits of instant award cards and how your organization can use them, reach out. C.A. Short Company has been in the employee engagement and recognition industry for over 80 years, and we'd love to show you the difference we can make at your organization.
C.A. Short Company partners with companies to manage, drive and facilitate increased employee engagement to increase financial performance, productivity, quality, and core performance outcomes. Our process and research-based platform enables executives and managers to engage their teams to increase the bottom line, motivate staff, and incentivize positive behavior. To Request a Complimentary Consultation, click here.