Though it doesn't feel like it outside, the truth is that Fall is right around the corner. The weather will soon cool off, the leaves will start to change, and recipes for "Pumpkin-Flavored Everything" will begin flooding our Social Media feeds. That's right, before we know it, the holiday season will be upon us. Though it may seem arduous, there is no better time than now to begin planning your Employee Holiday Gifting strategy.
Why Employee Holiday Gifting is Important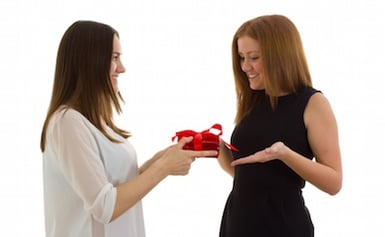 Your employees work tremendously hard all year long to meet and exceed the strategic goals of your organization. Their dedication deserves a celebration and the holiday season provides your organization an opportune time to commend your employee's achievements and their commitment to your organization. More, a carefully planned and well executed Employee Holiday Gifting strategy will provide a necessary employee morale boost, which is critically important as we coast into a New Year.
To take the hassle and strain out of Employee Holiday Gifting, we've outlined four tips to make your Employee Holiday Gifting experience a seamless and pleasant process.
Remove the Stress of Last Minute Employee Gifting
The holidays are meant to be a time of joy, but the stress of holiday shopping often mars the holiday spirit. By planning your employee gifting in advance and before the mid-December rush, you'll lessen, if not remove, the element of stress and create a gifting strategy that is timely, fun to create, and easy to manage.
You Have an Opportunity to Create Timelines
Most success stories start out with a clear objective, attainable goals, and well thought out strategy, but when it comes to a major strategic initiative, like Employee Holiday Gifting, where do you begin? Start by deciding your budget for Employee Gifting, as well as budgetary allowances for connected company gatherings and celebrations. Are you going to offer a set amount to all staff, or a tiered budget based on tenure and position? Will you create a company-wide celebration, or opt for a potluck lunch? Though it may seem menial, creating an impactful holiday celebration for your employees does take time and conscientious planning.
What's the Perfect Gift for Your Employees?
As we've noted in a prior blog post during our recent Webcast, Leveraging End-of-Year Giving During the Holiday Season, though it seems like an attractive option, providing cash incentives to your employees leaves out an important element of remembrance and appreciation. The way to navigate this issue is to engage in a points-based employee recognition program, like our People Are Everything Employee Engagement Platform. Using a points-based platform allows your employees to earn and be awarded points to select a gift that's most desired and meaningful, based on their personal taste. More, your employees can bank their points and use them to receive a larger, more substantial gift. A points-based recognition program can be used year-round and be used to in conjunction with OSHA-Compliant Safety Incentives, Service Award & Performance Award Programs, and overall Employee Recognition.
Celebrate the Season with Your Employees
Equally important, what will your organization do to celebrate your employees and the holiday season? Whether a potluck lunch or an off-site gala, a holiday party or a get-together to celebrate your employees, these events add an extremely beneficial element of appreciation and teambuilding. If the resources of your executive or management team are strapped, consider the benefits of appointing or welcoming the creation of a party-planning committee.
Plain and simple, employees want to be appreciated. Employees want to know that their contributions to your organization are noticed and that they matter to your organization as a whole. However, it doesn't mean that you have to break the bank to show appreciation. Careful planning and furthering an engaged company culture of appreciation is an ideal place to begin.


C.A. Short Company partners with companies to manage, drive and facilitate increased employee engagement to increase financial performance, productivity, quality, and core performance outcomes. Our process and research-based platform enables executives and managers to engage their teams to increase the bottom line, motivate staff, and incentivize positive behavior. To Request a Complimentary Consultation, click here.