Giving Employees Gifts During the Holidays: How We Do It

R Scott Russell, CRP, CEP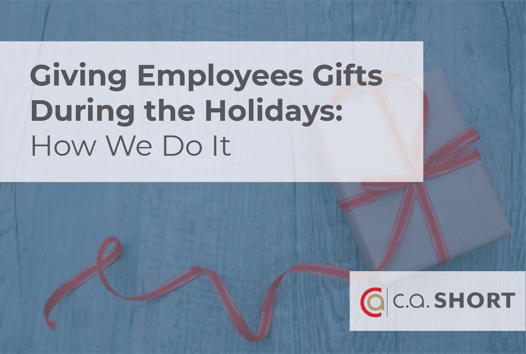 For some reason, sitting down to write about what to give employees for holiday gifts gave me writer's block. It all seemed so boring and overdone. I just couldn't seem to find the direction I wanted to go.
Then I realized, I work at an employee recognition company who specializes, in part, regarding employee holiday gifts. I am writing about employee recognition programs, why don't I write about how MY actual company celebrates its own actual employees during the holiday season and provide examples of unique corporate gift ideas.
How C.A. Short Company Celebrates the Holidays
I started working for C.A. Short Company almost 2 years ago. While my previous company did small "Secret Santa" type gifts between coworkers, and sometimes an official holiday "party", there was no consistent or formal employee holiday program in place.
So, imagine my surprise when I received a note of appreciation from my company President, a holiday gift catalog to choose whatever my heart desired, AND a comfy blanket with the company's logo tucked unobtrusively in the corner within my first year at C.A. Short Company. It was great! I felt like all the hard work I had been doing wasn't going unnoticed.
While there were many gifts to choose from, our house had recently been broken into and all my jewelry had been taken, so I ultimately decided on a pair of gold hoop earrings for myself. It was a great feeling to be able to choose something that I really wanted and found useful at the time. Coupled with the company branded blanket (it's so soft and comfy that my dog, Duncan, has now claimed for himself), it left a lasting memory of my first year at C.A. Short Company.
Unique Corporate Gifts For Employees
Every holiday season, C.A. Short Company does something similar. Instead of a blanket, sometimes it's a great golf umbrella or an amazing beach bag. The trick is that there are only so many of "one size fits all" items that a person can own. You've got to mix things up every year to really give any value to your employees. Not only do the gifts change, but technology has changed the way we give gifts.
Seven years ago, a hard copy catalog was the only option. The account managers across the country had to wait on snail mail to receive their gifts. Now, there aren't only options with the gifts themselves, but our account managers can browse, order, and track their holiday gift online through the PeopleAreEverything.com site. They can order their holiday gifts right away OR they can bank their holiday points with the other points they earned throughout the year for a larger gift later. It's really all about flexibility. Even if you are looking for gift ideas for employees on a budget, the PAE platform comes equipped with a points calculator for distributing points and monitoring your budget.
Choice, Flexibility, and the Lasting Memory
So, to wrap it all up in a nice little bow (see what I did there?), C.A. Short Company is all about the choice, the flexibility, and the lasting memory of giving employees unique and rewarding gifts during the holidays.
Not only that, but since employee years of service awards are generally celebrated in five-year increments, the holidays and corporate gift giving are a great way to show all employees that their hard work is appreciated every year, and not just every five.
At C.A. Short Company, we are your partner for increased employee engagement resulting in increased performance outcomes to grow your bottom line. Our People Are Everything™ Platform can allow you to give the best corporate gifts, helping you engage your team, motivate your staff to the benefit of the entire organization, and reward your people for the positive changes they make.
To request a Complimentary Consultation, please click here.
Editor's Note: This article was originally published on August 9th, 2017 and has been recently updated.