Can an Instant Awards Program Work in the Transportation Industry? Yes, Here's How

Jeff Ross, CPA, CRP, CSM
Editor's Note: This blog post was originally published in December 2014. Because we have recently published new blog posts regarding the Transportation industry, we feel it is advantageous to republish this blog post for easy accessibility and reference.
The Need to Reward Safety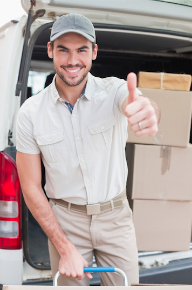 Over the past few years, major changes have occurred in the Transportation Industry. CSA 2010 Carrier Safety Scores are now publically available for shippers looking to hire safe and reliable carriers, as well as for drivers looking to compare potential employers. As a result, trucking companies with the highest safety scores are in the highest demand. Many trucking companies have had to find new ways to reward safe drivers and motivate truck drivers who have low scores.
Instant Award Recognition is one of the newest and most effective motivators in the market today. It is an instant reward for safe behaviors and a job well done. It is also simple to use and offers a way, with low administrative overhead, to recognize drivers.
The Reward of Rewarding Driver Safety
With the need to better manage drivers and fully encompass the full effect of CSA 2010, we reflect on a company who had a huge problem with roadside inspections. CSA 2010 collects data from roadside inspections and enforcement actions for each motor carrier. After several discussions, they found that by adding a reward for a perfect roadside inspection, they were able to lower their defects. When the first driver came in with a "zero defect" on a roadside inspection, the terminal manager pulled out an Instant Award Card. The driver was able to log onto the website, choose a reward, and redeem immediately. And WOW, what a response they received! Word spread quickly and drivers began to change behaviors to strive for better scores.
They added their logo and driver achievement to the front of the card, thereby linking the reward to the carrier. It is often the case that a small cash reward becomes lost in translation. The link from the reward to the company disappears because there is no visual. The cash gets spent for a small trivial purchase, and the recognition gets lost.
Instant Recognition and Awards are used with set budgets, include immediate gratification, and provide recognition in front of peers. It's truly one of the best options on the market to improve work performance and reap the rewards.
What goals could your company meet if you elected to implement an Instant Award Program?
At C.A. Short Company, we are your partner for increased employee engagement resulting in increased performance outcomes to grow your bottom line. Our process and research-based platform helps you engage your team in order to increase your bottom line, motivate your staff to the benefit of the entire organization, and reward your people for the positive changes they make. To request a Complimentary Consultation, please click here.