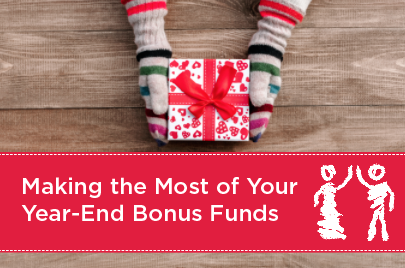 Here were are, it is December, and 100 percent of the conversations around the water cooler dance are around the speculations of what your holiday gift will be. Will it be cash, additional weeks pay, a free day off, a turkey? (If you are still giving Turkeys, please stop, there are way better options, that even cost less.)
What are you doing for your employees this holiday season?
Before you answer, ask yourself what are you attempting to accomplish? Are you thanking them for a good financial year or or do you simply want to show gratitude for their efforts and commitment to the company and it's growth? The answer to that question will narrow down your options.
If your company had significant growth throughout the year, and you want to share the financial successes with your employees, cash could be a solution. Who does not like a little extra padding in their pocket? If the message is delivered as a reward for an accomplishment, it can be a valuable option. Your employees thought process would likely be, "I push myself to accomplish my goals and exceed expectations, the company wins financially and shares the success." Great, right?
WARNING:
Not everybody went the extra mile, not everybody contributed to the financial win, does everyone get the same holiday bonus? If the performers and the non-performers receive the same recognition, where is the motivation to excel? Employers must ensure they keep performance bonuses and holiday bonuses separate. They can do both, but are cautioned to make eminently clear which is which.
Entitlement is also an issue
We have all heard this as a stereotypical description of Millennials, but they are not alone. What about team members who are mediocre workers with an expectation that their employer owes them holiday cash because "other companies" do it? Sure, that is a big fat check mark on your annual list of things to accomplish but is that what it is all about? This approach may appease a group of your employees, most likely the ones that are running your toxic subculture by having side bar meetings after meetings and plotting how they are not going to do anything they just agreed to do. (You know the ones.) What about the employees that put forth diligent effort to grow the company, help other areas, spread themselves a little thin for the betterment of the company? They are not motivated by entitlement bonuses. They will deposit the funds into their bank account, pay some bills, maybe splurge on a steak dinner, but have totally missed out on being engaged.
Gratitude (n) – a feeling of thankfulness and appreciation
It is often overlooked in the workplace by managers and team members alike. Why not use your holiday bonus funds to show appreciation to your employees! The great thing about this idea is you can show your employees gratitude on virtually any budget. It can be done by sending a simple eCard, utilizing your engagement program by depositing points into their account allowing them to purchase merchandise of their choice, giving company logo items or sponsoring a company meal. Employees like receiving a message from company leaders wishing them good cheer, thanking them for their hard work, along with a small gift of appreciation. This act goes a long way and lasts much longer throughout the year than a monetary gift. Praise through a company message is the most underrated motivator. Make your holiday well-wishes an experience, not just a tangible item.
I recently attended a recognition conference (Recognition Professionals International). For one of the presentations the panel was asked to tell the number one time they were recognized. Not one of the four said anything about a monetary recognition event. Everyone told a story about how someone in their lives communicated a message that made them feel important, appreciated and honored. It was about how the act of gratitude made them feel and not about what they received.
So as you muddle through the decision process and determine what the expectations of your holiday program are, think about the impact and perception of your program and ultimately how it will tie back to your company mission and vision.
Happy Holidays!
At C A. Short Company, we are your partner for increased employee engagement resulting in increased performance outcomes to grow your bottom line. Our process and research-based platform helps you engage your team in order to increase your bottom line, motivate your staff to the benefit of the entire organization, and reward your people for the positive changes they make. To request a Complimentary Consultation, please click here.