This year marked my 6th time attending the Annual SHRM Conference, and I must say, this year was my best experience to date! While Las Vegas never disappoints providing excellent entertainment, delicious food, and outstanding shopping, the SHRM Conference earned my undivided my attention. I have never seen a group of nearly 16,000 HR professionals so engaged with fellow attendees and vendors, seeking knowledge, advice and solutions to their biggest HR headaches!
The Connections & Camaraderie
In the past, attendees had that little voice in their head saying, "don't make eye contact; they might try to sell me something," but not this year. Attendees sought out specific vendors that they had heard about via blogs, Social Media outlets, and fellow attendees. The collaboration between Sales and HR was spot on!
The Fluidity of the C.A. Short Company Team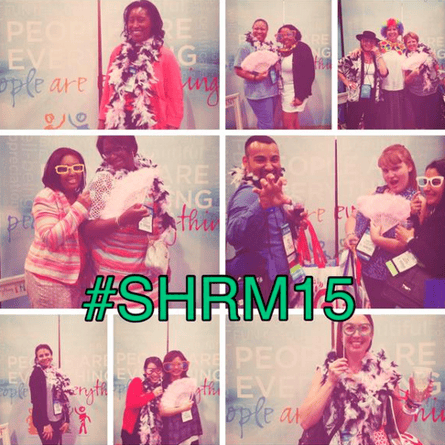 It was my honor to spend my time managing the C.A. Short Company booth and meeting many brilliant professionals from across the country. Our sales team did an outstanding job recruiting attendees to engage with our "Selfie Booth" and breaking down the walls of the traditional vendor versus trade show attendee relationship.
Attendees enjoyed a no-pressure opportunity to engage with some of our team members who create employee engagement strategies. Once our sales team gave attendees a scan, provided requested materials, and answered questions, I was able to speak one-on-one with attendees on an HR level explaining our People Are Everything Employee Engagement Platform, and the importance of employee engagement within an organization. It was an incredible feeling to see the excitement from our on-site team, our home-base team in Shelby, North Carolina, and the SHRM15 attendees. The energy was contagious and infectious, and I instantly felt the cultural and emotional shift to embrace the importance of having an engaged workforce.
I'd be remiss if I didn't say how much our ENTIRE C.A. Short Company team came together to create such a proactive and inspired presence at SHRM15. Our entire organization played a role in the production of our tradeshow booth - from the design, rolling t-shirts, filling tubes, handling the marketing, creating strategies, preparing our props, and packaging our supplies. We were a success because our team came together to move mountains!
People Are Everything... And Everything is AWESOME!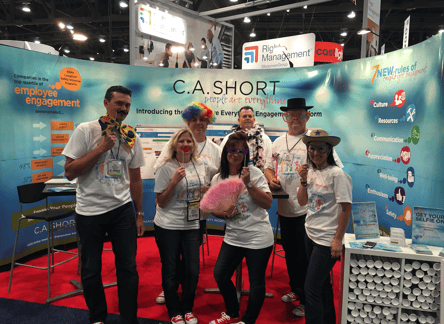 And by far, my #1 reason that SHRM15 was awesome because it gave me a tool that engaged my employees, and tilted our culture even further into a new direction of employee engagement. We used the principles of our People Are Everything Employee Engagement Program, which we launched at SHRM15, to make our successes happen, which included earning more than 1,000 leads and being in the top 25 of most engaged companies at SHRM15.
Normally, when I return from the HR conferences, employees ask me if I had fun. After I returned home from Las Vegas, employees were asking how the booth performed. Now, THAT was awesome!
Want to See More Pictures From Our Time at SHRM15?
Click HERE to See our Facebook Album!
At C.A. Short Company, we are your partner for increased employee engagement resulting in increased performance outcomes to grow your bottom line. Our process and research-based platform help you engage your team in order to increase your bottom line, motivate your staff to the benefit of the entire organization, and reward your people for the positive changes they make. To request a Complimentary Consultation, please click here.