How to Create a Spirit Week to Engage Your Employees

R Scott Russell, CRP, CEP
One of my favorite activities to plan is our annual C.A. Short Company Spirit Week. Sure, it may sound childish, but creating a Spirit Week for your employees has big benefits! Similar to a Spirit Week that is often held at high school's surrounding Homecoming festivities, our take on Spirit Week allows our employees to amp up their creativity, raise awareness regarding causes that C.A. Short Company is proud to support, and strengthen the bond of our employees. More, we tie our Spirit Week with an exciting, company-wide event. In 2015, our event was tied to our fundraising for the Relay for Life - Cleveland County Shelby for 2016.
We rolled out the idea after my elementary-aged children were preparing for what they were going to wear each day of Spirit Week at their school. My son, who could not care less about what he wears to school each day, sat me down and told me what he had envisioned for his attire for the week ahead. I was stunned! He CARED about how he would arrive at school? I was wondering who brain warped my child, but then it hit me. Someone or something at school engaged my son into participating. I asked him why he was so interested in participating - his response? Epic."Mom, the person that shows the most school spirit gets a free donut!" Who does not want a free donut at the age of 8?
So, here's how we spun a traditional Spirit Week to engage our employees.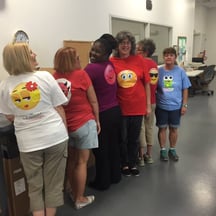 On September 8th, 2015, the day after Labor Day, our Spirit Week began! During each day of the week, we invited our team to dress up, based on the theme of the day. Those who were interested in partaking were simply asked to bring in a $3 to donate to the Relay for Life - Cleveland County Shelby.
Tuesday, September 8th: Cancer Awareness Attire
Giving back, raising awareness, and supporting the quest to find a cure to cancer is very near and dear to our hearts. Not only have some of our employees been affected by cancer, their families have, too. It's a core value at C.A. Short Company to invest in the betterment of our community and community members.
Wednesday, September 9th: Dress as Your Favorite Emoji
Different, right? It's easy to add conversational accents with emoji's, but dressing like one is another animal. The creativity was awesome!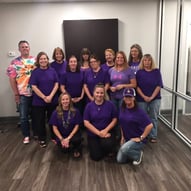 Thursday, September 10th: Crayon Day
Each department of C.A. Short Company signed up to be a particular color. Though we all have different roles within C.A. Short Company, we're a team and we have to work together as one. See that guy in the tie-dye shirt? That's our President and CEO, Jeff Ross. Notice the shirt? Was that accidental? Absolutely not. He's a part of all teams!
Friday, September 11th: Favorite Sports Team Day
On Friday, September 11th, the last day of Spirit Week, our entire company assembled in the warehouse at 3:00 pm to learn about our 2016 fundraising campaign for Relay for Life - Cleveland County Shelby, a cause that is near and dear to our hearts. Our employees were welcomed to sign up to become involved in the committee and as well, register to become a participant.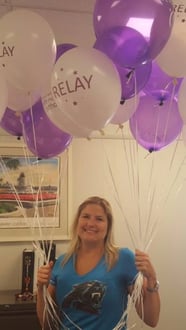 But, in typical C.A. Short Company form, we added an extra element of FUN! We brought out our much loved Slushie machine and our Relay for Life Team offered a "tailgate food" themed lunch, to celebrate Favorite Sports Team Day, which further launched the excitement of the kick-off to the 2015 NFL season. (Yes, we have a lot of passionate football fans at C.A. Short Company!)
To create a successful Spirit Week, you don't have to time it during a traditional Spirit Week - it can be hosted any week that you choose! The benefits of Spirit Week are many, including whole team bonding, allowing your employees to think outside of the box, and support a local non-profit of your choice.
Engagement Challenge: Organize a Spirit Week for your employees!. Take a look at our Spirit Week at C.A. Short Company, and tweet us the pictures from your week!