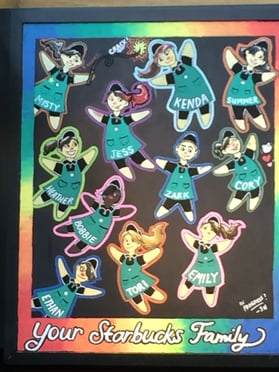 Welcome to the first in a series of blogs devoted to shining the spotlight on random Acts of Engagement. I must be honest, this isn't as easy as it sounds. I travel pretty extensively for both my work and home life. I am on a constant search for moments in life where the ordinary human interaction becomes extraordinary through the power of engagement.
Sadly, however, as my eyes are wide open looking out for those amazing moments, they are becoming harder and harder to find. So, when I do come across a true Act of Engagement, I relish in its glory, and now I'm going to share it with you!
So, come along with me as we travel the country and highlight great interactions and the people who make them happen.
An Average Experience
I travel to our main office here in Shelby, NC every couple of weeks. I stay in a nice hotel near our office and while I am fond of Shelby (it reminds me of my hometown back in Kentucky), I am a little frustrated that there is no drive-thru Starbucks for me to grab a Cinnamon Dolce Latte on my way into the office. Yes, I am one of those people! I basically decide how my day is going to go by how much coffee I have to drink in the morning. My Starbucks drinks are usually just right to get me going.
Well, I did a little research and found a couple of Starbucks kiosks in the local grocery stores here -- no drive-thru, but I guess I CAN get out of the car and go in and grab my favorite drink. I tried one of these locations that is actually closest to the hotel and office, and my experience was average -- nothing awesome -- but fine by most standards.
Going the Extra Mile
And then one day it finally happened! My boss and I decided to try out the Starbucks kiosk that was just past our office in the Kings Mountain area. It was out of the way a bit, but we wanted to give it a try. I took my place in line and made my way to the kiosk. There was some good music playing in the store, and I was swaying back and forth and singing under my breath, as I always do. And as I got to the counter, a smiling, lovely and, as I would soon learn, fully engaged employee says to me, "Ooh, you look like fun! I saw you back there enjoying yourself. I bet you are crazy."
The door was open for me to engage this employee, whose name is Bobbie, so I did. We joked back and forth a bit, and I gave her my made up name -- one of my favorite things to do at Starbucks, give them any random name I am feeling that day. I asked her to be sure and call out my name when my drink was hot and ready. She did, in the loudest voice she could muster, with a smile. When I left, she asked me to come see her again when I was back in town. I had shared that I travel often and was in town now and then on business.
The Turning Point: Leaving an Impression
That interaction stuck with me in the weeks following, and now when I am in the Shelby area, I ALWAYS go out of my way to see Bobbie and catch a glimpse of her infectious smile. She remembers me each time and we share a laugh at the start of the day as I give her whatever crazy name I come up with at the spur of the moment. It is because of Bobbie that I choose to give my business to that location, and I am actually saddened when I show up and it's her day off. She chooses to come to work each day with a positive attitude and to share with her customers all the wonders of what an engaged employee looks and feels like.
I took the time recently to provide feedback on my interactions with Bobbie with Starbucks corporate, and I hope that they gave her the praise and recognition she deserves. She stood out of the crowd by offering a real Act of Engagement and continues to do so with each Grande she serves. If you find yourself in the Shelby area and need a coffee fix, please take the time to visit the Kings Mountain Ingles, and inside you'll find Bobbie at the Starbucks kiosk. You can't miss her! She'll be the one smiling and laughing and forcing you to want to come back for more. Tell her she's an Internet sensation now!
What Lies Ahead?
I would love to read about your interactions with real Acts of Engagement. Please feel free to send them to me by commenting in the field below. I am on the lookout for my own and will continue to share.
Now, I wonder where my next one will come from???
Tweet: @Starbucks Congrats on your engaged employee! Read about it here: http://ctt.ec/aLUW1+

C.A. Short Company partners with companies to manage, drive and facilitate increased employee engagement to increase financial performance, productivity, quality, and core performance outcomes. Our process and research-based platform enables executives and managers to engage their teams to increase the bottom line, motivate staff, and incentivize positive behavior. To request a Complimentary Consultation, please click here.