Do you need a more effective Service Award Program?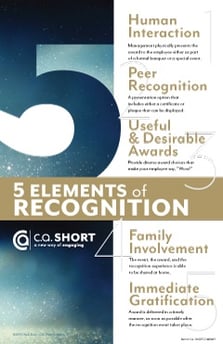 Just because your company has a Service Award Program, doesn't mean that it is having the impact on your employees that you intend it to.
These 5 Elements of Recognition provide a framework for creating a strategic and successful recognition program that increases employee satisfaction and aligns with the organizational goals.
5 MUST HAVE ELEMENTS OF RECOGNITION
Human Interaction
Peer Recognition
Useful & Desirable Awards
Family Involvement
Immediate Gratification

Ready to Recognize?
Request your 5 Elements of Recognition Wall Chart by filling out the form on this page.