It's time to start predicting and preventing safety accidents before they happen.
We collect countless amounts of data: risk assessments, behavior-based activities, training records, hazard identifications, and incident investigation reports, but unless you put that data into action, it's useless.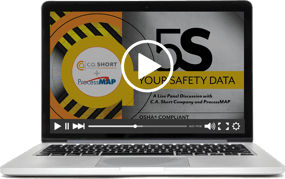 In our webinar, you will learn how you can implement the 5S methodology to analyze you your data and turn your lagging indicators into leading indicators. Start using your data today for more proactive decision making in your company.
This Webcast will provide your organization with:
Ways to organize your safety data to reveal leading indicators that drive injury prevention

How to use your indicators to develop a stronger safety culture

What the 5S Methodology and h

ow to use it with your company data

What the Safety Maturity Curve is and why it matters

The current state of the workplace

The current state of the employee

And much more!
Improve the safety and health of your employees, as well as improve your bottom line by viewing this webcast! Fill out the form now!


Supercharge your Safety Data, and Put it to Work for You