Complimentary Wall Chart: The 10 Elements of Safety Awareness

10 Elements That Will Get Your Workforce Committed to Safety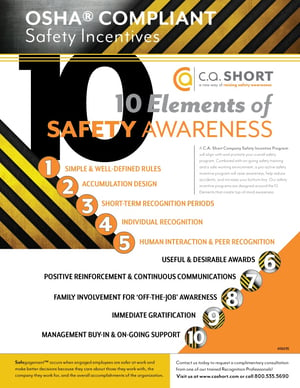 Are you looking for ways to reduce your safety incident costs, raise employee engagement and increase your bottom line? Download this Complimentary Guide and discover the 10 Elements of Safety Awareness that will help you create a Culture of Safety in your organization.
This Guide will provide your organization:
A visualization of the direct relationship between Safety and Employee Engagement - an engaged employee is a safe employee

A fun and a constant reminder of the crucial role that leaders play in developing safety awareness in the organization

An engaging way to encourage your entire workforce to participate in promoting Workplace Safety
Ready to Get Started?
Request your 10 Elements of Safety Awareness Wall Chart now by filling out the form on this page.