Complimentary Guide: 5 Tips to Engage Your Healthcare Team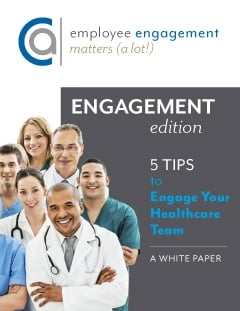 According to the World of Work Trends in Employee Recognition Report, there has been an increased prevalence of employee recognition programs designed to drive results and change behavior.
The report states that 97% of organizations that have a defined recognition strategy in place state that their programs and their strategy align with the overall goals of the organization. Employee recognition appears to no longer simply be about the length of service programs but is becoming intrinsically more about organizations realizing the impact that Engagement can have on both their business and their bottom line.
This guide provides a framework to develop a culture of engagement that aligns with healthcare organizations' strategic business goals that include:
Retention of top healthcare workers

Expansion of Continuing Education Programs

Corporate Wellness
Ready to Get Started?
Fill out the form to request and receive access to our guide.
Request Your Complimentary Guide!