White Paper: Three Ways to Accelerate Employee Engagement

Supercharge Your Employee Engagement in 3 Simple Steps!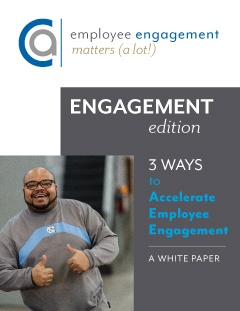 There are more than a hundred programs and approaches developed to help organizations engage employees, however, some of the most effective ways to accelerate engagement are also the simplest and the least expensive.
The Three Ways to Accelerate Employee Engagement White Paper intends to help organizations achieve their goals by providing them with powerful ways to boost their Culture of Engagement.
This White Paper will provide your organization with:
3 simple but powerful ways to supercharge your Employee Engagement and help you increase your bottom line

A comprehensive guide that will help you understand the core elements of Employee Engagement

Unique insights into how companies around the world transform their businesses through Employee Engagement
Ready to Get Started?
Request your Three Ways to Accelerate Employee Engagement eBook now by filling out the form on this page.
Request Our White Paper: Three Ways to Accelerate Employee Engagement