Download Our Complimentary White Paper:
Creating Healthier Employees and Stronger Companies with Wellness Programs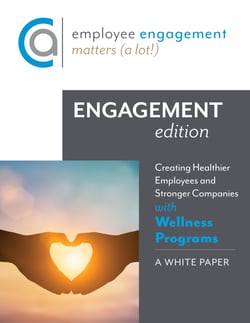 Stop Neglecting the Health of your Employees.
Wellness programs not only help your employees live longer, happier lives but they also increase business profits. The average ROI of every $1 invested into a quality wellness program can yield as much as $6 in healthcare savings.

With a quality wellness program you can expect:
Increased profits
Increased work productivity
To retain and attract more top talent
Reduced absenteeism
Reduced work-related illness
Reduced sick pay
Reduced worker's compensation claims
Get started creating a healthier workforce by downloading our Wellness White Paper. Neglecting the health of your most valuable asset is no longer an option.
By downloading our free White Paper, you will learn:
Ways you can integrate a successful wellness program
All the benefits you can expect from a quality wellness program
Recent studies on wellness programs
Receive Our Wellness White Paper