Complimentary eBook + Wall Chart:
From Zero-Sum to Win-Win: Safegagement™'s Impact in the CPG Sector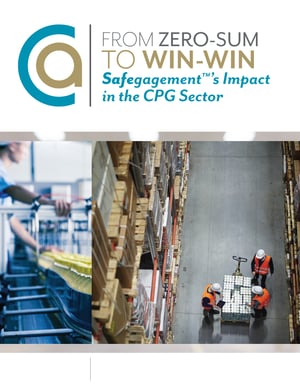 Safegagement Drives Business Results
Ready to drive better results for your business? If you're looking for real growth, then it's time to innovate with Safegagement™ – a focus on both safety and engagement.
By committing to improve safety and engagement simultaneously, you can:
Decrease Safety Incidents by 70%

Reduce Turnover Rates between 24-59%

Improve Product Quality by 40%

Increase Your Bottom Line by more than 20%
C.A. Short Company has spent nearly a century helping companies within the Consumer Packaged Goods (CPG) sector protect their products, profits, and – most importantly – their people. And we've accomplished it all through the power of Safegagement.
Learn how you can get started with Safegagement by downloading our eBook, From Zero-Sum to Win-Win: Safegagement's Impact in the CPG Sector
You will also receive our wall chart, which illustrates the power Safegagement wields in the CPG industry and even outlines 10 powerful tips your company can take to begin creating a Culture of Safegagement today.
By downloading our eBook & Wall Chart, you will learn:
The benefits of embracing Safegagement within the manufacturing, warehouse, and transportation industries

Specific actions your company can take today to create a Culture of Safegagement
The tools you need to create long-lasting change in your organization
Harness the Power of Safegagement in the CPG Sector