Having Trouble Getting Your Employees Engaged?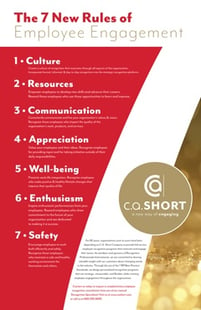 By requesting and following the 7 New Rules of Employee Engagement Wall Chart, you'll be able to keep the crucial factors of employee engagement at the forefront of your mind as you strive to achieve a fully engaged workforce!
This Wall Chart will provide your organization:
A colorful and easy to read reminder of the basics of employee engagement

A visualization of how these strategies build on and complement each other

An engaging way to promote your company's culture
Ready to Get Started?
Request your 7 NEW Rules of Employee Engagement Wall Chart by filling out the form on this page.