Positive Reinforcement for Day-to-Day Recognition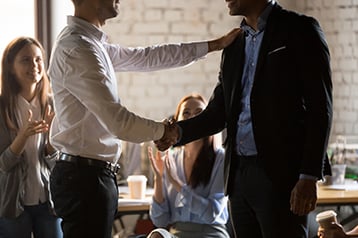 As I enter my 14th year of coaching high school cross country, I am reminded how imperative it is to provide positive reinforcement to my athletes on a daily basis. If I don't regularly encourage them, how else would I motivate a sixteen-year-old to go out for an "easy" nine-mile run? Recognizing my athletes once a season or once every four seasons would be unthinkable! They would quickly lose focus and eventually switch to another sport where they feel their efforts are noticed and appreciated by the coaching staff.
So, why is it that so many companies have recognition strategies that only focus on recognizing employees every five years? Is work really that different from my Cross Country team? According to the Department of Labor*, they are quite similar. Lack of Appreciation in the workplace continues to be one of the top reasons for voluntary turnover. It ranks ahead of compensation and benefits!
An Easy Fix for Employee Recognition
The good news is that there is an EASY fix!
Formal recognition, such as Years of Service Award programs, are an essential component of a healthy employee recognition strategy. However, there needs to be a healthy dose of informal and day-to-day recognition thrown into the mix as well. According to RPI, informal recognition typically focuses on individuals or teams that have achieved a goal or milestone. Informal celebrations may include low-cost mementos, Instant Award Cards, or refreshments as a way to celebrate achievements or outstanding behavior.
The Foundation of Your Employee Recognition Strategy
Day-to-day employee recognition should be the foundation of your recognition strategy. Your day-to-day recognition plan should be designed to recognize behaviors that support the organization's core values and should be accessible to everyone. Verbal praise, eCards and peer-to-peer recognition programs are great ways to get your employee's engaged in your organization's recognition culture!
So whether you are at work, home or cross country practice, a little day to day recognition can go a LONG way!
* per the United States Department of Labor. Bureau of Labor Statistics. Economic News Release Table 4. Quit levels and rates by industry and region, seasonally adjusted. November 22, 2013.

At C.A. Short Company, we are your partner for increased employee engagement resulting in increased performance outcomes to grow your bottom line. Our process and research-based platform help you engage your team in order to increase your bottom line, motivate your staff to the benefit of the entire organization, and reward your people for the positive changes they make. To request a Complimentary Consultation, please click here.