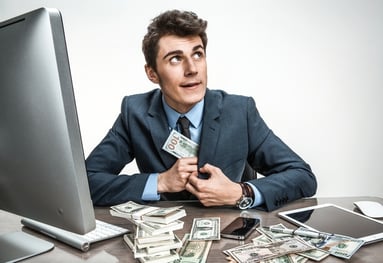 Employee theft is not a new problem, but companies continue to look for ways to fight shrinkage and other types of loss originating from within the walls of their own businesses.
You want to believe your employees care about the company and its bottom line. In many cases, employees responsible for shrinkage and loss don't have an idea of the affect it has on their company, or they don't care. They may even have a distorted sense of entitlement based on the way they believe they are treated by the company, however wrong this type of thinking may be. What these employees don't realize is that the problem is significant and it affects everyone, including their fellow employees and all consumers.
In fact, it is estimated that employee theft costs U.S. businesses as much as $60 billion a year in 2015, according to numbers from the U.S. Retail Fraud Survey, which was up from $57 billion the previous year.
But theft is not the only employee-related loss that companies experience. Businesses are also adversely affected by factors such as waste, administrative errors and in the case of retail organizations, loss of sales through out-of-stock or unstocked merchandise. They also may be inclined to turn a blind eye to external shrinkage or co-workers engaged in these types of activities.
Usually, employees involved in this type of behavior are disengaged with their workplace, and are therefore careless or disinterested in their employer's success.
That's where it is in everyone's best interest to promote an engaged culture or workplace.
Employee theft and employee-related losses are significantly decreased in a culture where staff feel appreciated and valued, where employees feel they have opportunity for advancement and where managers communicate and recognize their team for excellent performance.
These employees are generally happier about their jobs, more productive, more willing to recommend their company and more apt to pay more attention to actions that will adversely affect their company.
In fact, research shows that companies with recognition programs are 12 times more likely to generate strong business results, such as higher profitability and better market leadership position. Furthermore, some 78 percent of employees say being recognized motivates them in their job (Bersin by Deloitte, The State of Employee Recognition, 2012).
Still, employees work for people, not companies. So employee engagement begins with leadership and with managers. A study by the Cicero Group found that 50 percent of employees believe being thanked by managers not only improved their relationship but also built trust with their higher-ups.
While it may be unrealistic to think that shrinkage, waste and other types of losses will ever be completely eliminated, it makes sense to assess whether your organization is doing enough to recognize employees and to build a culture of engagement.
C.A. Short Company partners with companies to manage, drive and facilitate increased employee engagement to increase financial performance, productivity, quality, and core performance outcomes. Our process and research-based platform enables executives and managers to engage their teams to increase the bottom line, motivate staff, and incentivize positive behavior. To Request a Complimentary Consultation, click here.