Employee engagement is a powerful tool for companies looking to increase profits, drive innovation, retain talent, and energize the workforce. And while the process of implementing a better plan for engagement can often take some time, there are three steps any organization can take to accelerate the process on every level. So, as we discuss this ever-important topic over the course of our next three blog entries, let us once again turn to Gallup's report titled, "State of the American Workplace."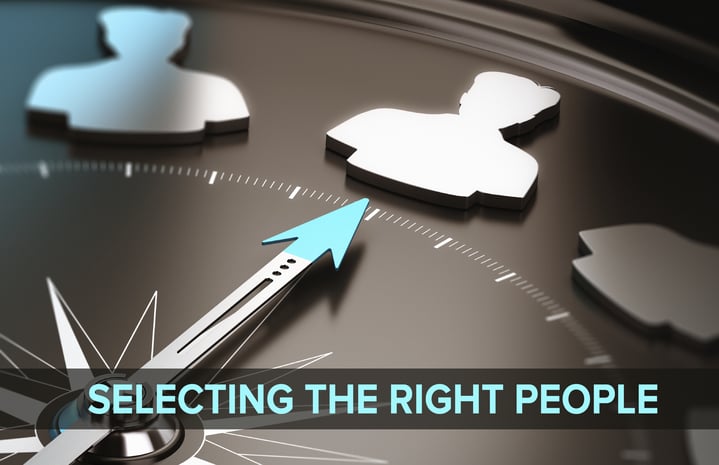 As part of their study, researchers uncovered unique insights into how companies, around the world, transform their businesses through engagement. To make these strategies easier to digest, they separated them into three key actions - selecting the right people, developing employee's strengths, and enhancing employees' well-being. Today, let's dive into the first:
Action 1 - Select the Right People
While it's always important to focus on the strengths of your current employees, it's just as important to bring new individuals into the fold who can bolster your efforts through effective leadership and performance. Leadership is one of the most important roles you can fill because they're not only a liaison between workforce and senior management; they're also the individuals tasked with igniting the passions of team members on a daily basis. That's why the need for the right set of leadership talents cannot be overstated.
What exactly must you look for in a great leader?
Of course, these new individuals don't have to come from outside the organization. Gallup researchers have spent decades studying the talents of influential leaders around the world, and the common thread they found was a natural pattern of thought, feeling, and behavior productively applied to their role. It's the perfect mixture of charisma and forethought.
Engagement on multiple levels
Beyond the initial need for such talents, how these leaders engage employees must also be taken into consideration. Gallup found that great leaders engage their teams on multiple levels. First, they hold and display genuine emotion for their team. They build relationships based on very real truths that are defined by the individual and not by some sort of guidelines. Second, these individuals care equally for their own performance and the performance of those around them. They set expectations by embodying them and never ask others to go above or beyond what they themselves would do. Lastly, great leaders value and invest in talent. They have a keen eye for what people bring to the table, and they do everything in their power to embrace and maximize those capabilities at every turn.
Culture of engagement begins with good leadership
Simply put; great leaders have a talent for supporting, empowering and positioning the entire staff for success. We believe that hiring the right people and teaching your managers to lead is perhaps the single most impactful thing you to can do to create a culture of engagement.
Be sure to stay tuned for part two of our three-part series, in which we discuss how to develop your employees' strengths.
At C.A. Short Company, we are your partner for increased employee engagement resulting in increased performance outcomes to grow your bottom line. Our process and research-based platform helps you engage your team in order to increase your bottom line, motivate your staff to the benefit of the entire organization, and reward your people for the positive changes they make. To request a Complimentary Consultation, please click here.