This post is the 3rd in a series of eight blog posts about engaging employees in the healthcare industry.
The concept of employee recognition is not a new ideology. For many years, healthcare facilities have recognized employees years of service by awarding pins and badge accents, hosting banquets, and providing merchandise-based catalog rewards. Some departments may recognize their own achievements or milestones, but those achievements were never communicated outside of their floor. What has changed is the idea of implementing a strategic Total Recognition Platform that goes way beyond the number of years your employee has worked for you, and that allows for interdepartmental recognition.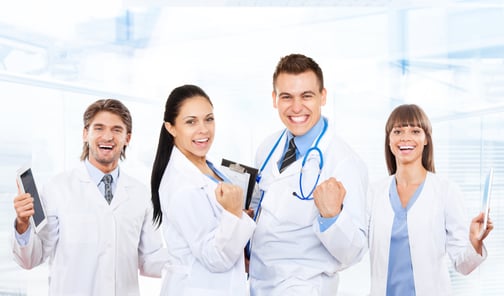 Total Recognition and employee engagement are based on the notion that your employees need more than an annual "thank you for sticking around." By incorporating Recognition Professionals International's (RPI) three-dimensional descriptors of recognition your facility, you will be able to build a strong culture of recognition and commitment to employee engagement.
What are the Three-Dimensional Descriptors of Recognition and What Do They Mean?
In order to successfully structure a Total Recognition Program, your recognition strategy must incorporate formal, informal, and day-to-day recognition.
Formal Recognition
Formal Recognition includes years of service awards, but can also include any structured program with a defined set of criteria and processes that are linked to your organizational values and goals. Formal Recognition tends to be an annual event, which includes a small percentage of standout or exemplary employees being recognized.
Informal Recognition
Informal Recognition reaches a larger number of employees. It is less structured than Formal Recognition and is meant to recognize progress towards specific goals or behavior changes. An example of Informal Recognition would be a safety point or stamp program.
Day-to-Day Recognition
Day-to-Day Recognition is frequent and ongoing and is designed to recognize behaviors that support organizational values that all employees can participate in to give and/or receive recognition. Day-to-Day Recognition can include eCards or Instant Award Cards that can be given by peers or management staff.
How Can I Apply Employee Recognition in My Healthcare Facility?
By bringing healthcare facility administrators, medical staff, janitorial staff, and cafeteria workers together, your healthcare organization can create a culture of recognition that resonates up, down, and across all departments.
By allowing RN's to recognize their cafeteria workers for providing excellent service via eCards, or giving nursing assistants the ability to earn points for exceptional patient satisfactions scores, or giving all employees the ability to wish each other a happy birthday via social recognition, your facility will increase productivity, patient satisfaction, and profitability.
C.A. Short Company has developed strategic total engagement programs for some of the largest healthcare organizations in the country. We have learned that healthcare facilities need flexibility and measurable benchmarks in order to achieve desired results. By integrating the individual and departmental programs into one total recognition platform, healthcare facilities can easily manage, monitor, and most importantly measure the success of the program as a whole.
At C. A. Short Company, we are your partner for increased employee engagement resulting in increased performance outcomes to grow your bottom line. Our process and research-based platform help you engage your team in order to increase your bottom line, motivate your staff to the benefit of the entire organization, and reward your people for the positive changes they make. To request a Complimentary Consultation, please click here.