What Is Peer-to-Peer Recognition? Why Should You Have It? (+3 Ideas to Encourage It)

R Scott Russell, CRP, CEP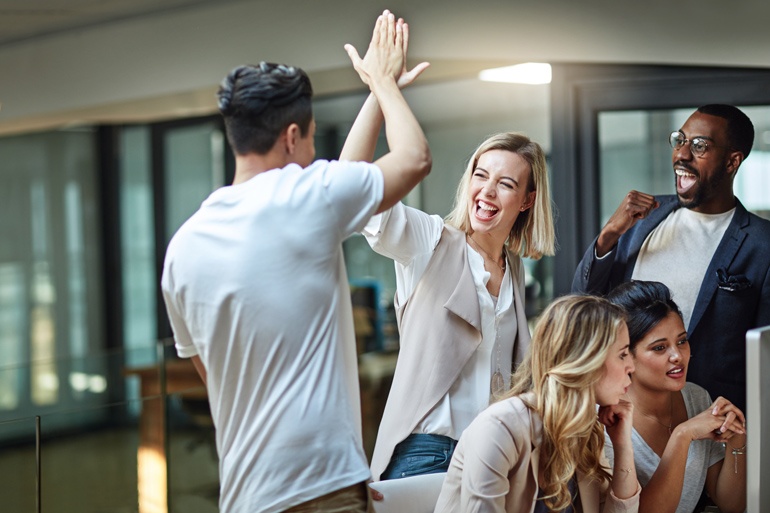 A handwritten note from an executive. An award to honor years of service. Maybe even a personalized gift from a manager. For most companies, the responsibility of recognizing and appreciating employees typically falls on management.
However for the modern workforce, peer-to-peer recognition is much more impactful than traditional methods of recognition. Why? Peer recognition provides timely, specific, and consistent recognition to your employees.
What is Peer-to-Peer Recognition?
Peer-to-peer recognition is a form of recognition given to co-workers by co-workers. In other words, feedback and recognition that comes directly from those an employee interacts and works with the most.
Peer recognition doesn't have to be complicated or need planning. It can be as simple as an email or Microsoft Teams message saying "thank you."
A simple thank you encourages employees and helps productivity, teamwork, and morale. Positive feedback and recognition lead to increased employee engagement. All variables that also increase your bottom line.
Benefits of Peer-to-Peer Recognition
Here are some of the benefits of peer-to-peer recognition:
Create a culture of recognition and engagement

Build trust between employees and across departments

Boost retention and turnover (lack of recognition is the #1 reason employees leave their jobs)

Improve job satisfaction

Increase customer service

Employees have an equal voice
3 Peer-to-Peer Recognition Ideas for Remote and Non-Remote Employees
1. Recognize Publicly
Public recognition is a great way to celebrate achievements, big or small.
Recognition given in public channels like Slack, during a meeting, or on your employee recognition platform is a huge motivator for employees. It also encourages employees to participate in the celebration, which only drives motivation further.
Public recognition also gives employees a chance to celebrate wins, whether they're in the office or remote.
2. Say Thank You or Great Job
Simple recognition like saying "thank you" or "great job!" is never underappreciated.
Send an email, eCard, or handwrite a note.
3. Award Peer-to-Peer Recognition Program Points
If you want your peer recognition program to deliver the greatest impact, award your employees with peer-to-peer points they can use to honor their co-workers.
At C.A. Short Company, we give each employee a set of points they can award to their team members in the form of eCards.
If the points aren't assigned to their peers within a certain time limit, they expire. Employees can then redeem their points for the reward of their choice.
Activities like these help to train your employees to look for ways to recognize and appreciate their peers, to look for the good, and to give instant feedback about their co-workers' performance.
Achieving peer recognition with employee engagement and recognition software
One of the most effective means of achieving peer recognition is by implementing an employee engagement and recognition platform. Utilizing sophisticated yet easy-to-use software, you can bring total recognition to the forefront of your workforce. With the right tools in place, you can develop robust processes that promote genuine appreciation among peers, regardless of where they are located, in a relaxed and social atmosphere.
Employee recognition software lets you connect all your employees virtually no matter where they're physically located. It helps set the stage so employees can see each other's achievements and applaud peers, which are some of the basic catalysts for raising engagement.
Editor's Note: This article was originally published on May 23rd, 2018 and has been recently updated.