What are Instant Award Safety Incentive Programs?

Jeff Ross, CPA, CRP, CSM
We get this question a lot. How Can I Raise Recognition Program Awareness While Fully Engaging My Employees?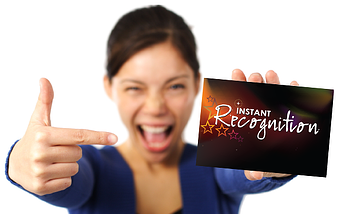 It's the ultimate goal of every person responsible for Employee Recognition. But, over the years I have found a very easy way to achieve both of those goals. Instant Award Recognition. What is Instant Award Recognition you might ask? It's pretty simple. It is recognition given as close to the event or celebrated action as possible.
With today's workforce, a recent Mercer study showed that 43% of people left their jobs for the lack of recognition. By adding Instant Award Recognition to your existing formal recognition program, employees don't have to wait a year, or a month to be recognized for a job well done. They will be instantly rewarded by their leadership team, which in turn leads to a more engaged employee while raising job performance and satisfaction.
Instant Award Safety Recognition can include both tangible and intangible awards, and can be used in conjunction with an accrual based safety incentive program.
5 Ways to Add Instant Award Recognition into Your Organization
Implementing Instant Award Recognition into your organization does not have to be a big feat. Start by taking intentional steps to reward and recognize your employees for their achievements. Start here:
Print on-demand certificates and personalize them to recognize your employees for a job well done.

Provide sincere thanks and praise in front of their peers.

Send E-Cards with preloaded points that may be redeemed for rewards.

Give employees with Instant Award Cards

Set-up milestone achievement awards
It is really a matter of common sense. Who doesn't want to hear that they did a great job? By raising the awareness levels of employee rewards and recognition, you will gain company loyalty, trust, engagement, and employee retention. By using Instant Award Recognition as part of your strategic safety incentive program, you will build a culture of recognition that aligns with your company core values.
At C.A. Short Company, we are your partner for increased employee engagement resulting in increased performance outcomes to grow your bottom line. Our process and research-based platform helps you engage your team in order to increase your bottom line, motivate your staff to the benefit of the entire organization, and reward your people for the positive changes they make. To request a Complimentary Consultation, please click here.