Recognition is an inherent human trait. As a culture, we place a great value on recognition; birthdays, wedding anniversaries, graduations, accomplishments, achievements, employment years-of-service milestones, and more. It has been an American tradition for over 75 years to recognize employees for longevity. Let's take a look at how and when the tradition of recognizing anniversaries began.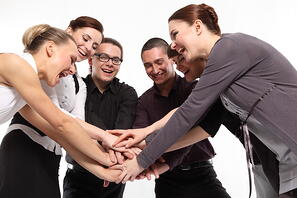 The History of Celebrations
Wedding anniversaries are the most common and popular of milestone celebrations. This is nothing new. Wedding anniversaries were celebrated way back in the ancient Holy Roman Empire. On their 25th anniversary husbands would crown their wives with a silver wreath, and on their 50th anniversary, a gold wreath. This was the origin of the modern day silver and gold wedding anniversaries. This custom, silver and gold anniversaries, was carried on by the medieval Germans.
It wasn't until the twentieth century that the commercial and retail world added more anniversaries with specifically named gifts, and in the 1930's, we began celebrating anniversaries as an American tradition. Different countries and cultures vary in their individual customs, but most modern nations have adopted the traditional standards for five-year milestones; 5th wooden, 10th tin, 15th crystal, 20th china, 25th silver, etc. The history of wedding anniversaries indicates that the idea was to de-stress and break the monotony of everyday life.
It was in 1937 that the American National Retail Jeweler Association introduced an expanded list of anniversary gifts, not just at 5-year increments, but for each year up to the 25th, and then for every 5th anniversary after that.
The logic of presenting gifts for milestone anniversary achievement was that stability deserves a reward and the more the stability, the greater should be the award.
The Current Landscape of Employee Recognition
This brings us into the new millennium with the practice of recognizing employees for stability or longevity. It's been the American tradition for over 75 years to recognize employee longevity at 5-year increments. The history of recognition contributed to this standard. Even the IRS has set guidelines on the taxability of length of Service Awards, specifying that the award must be received by the employee after his or her first five years of service with the employer, and then at 5-year increments. This also has contributed to the traditional 5-year standard.
However, there has been an increasing trend in recent years to recognize employee stability or longevity for continued service at the 1-year and 3-year milestones, too. Many even recognize the first 5 years with token recognition awards of some sort, and then in some form or fashion, recognize every year of the employees' work anniversary moving forward. This is more common in the transportation industry where the employee's tenure is tied to years-of-safe-driving.
Why Years of Service Awards Have Changed
So, why the trend for recognizing less than 5-years of service? Times have changed. We are more mobile today. Unlike the past, people don't tend to stay with their employers for their lifetime. One reason is that retirement plans, 401k's and IRA's, stay with the employee and can be moved with them from job to job.
Turnover is costly to employers, including recruiting, hiring, and training. The U.S. Bureau of Labor Statistic reports that the median number of years that wage and salary workers have been with their current employer is 4.2 years as of January 2018.
The question is, will recognizing employees for years-of-service anniversary awards at the 5-year milestones, and even at the lesser, the 1-year through 4-year milestones increase retention? There have been studies conducted regarding exit interviews that indicate that one of the major reasons employees leave their employer, many times even more than compensation and benefits, is lack of recognition. It is proven that increasing employee engagement, and creating an employee recognition culture will have positive and lasting results.
At C.A. Short Company, we are your partner for increased employee engagement resulting in increased performance outcomes to grow your bottom line. Our process and research-based platform helps you engage your team in order to increase your bottom line, motivate your staff to the benefit of the entire organization, and reward your people for the positive changes they make. To request a Complimentary Consultation, please click here.