Why Is Employee Voice Important?

R Scott Russell, CRP, CEP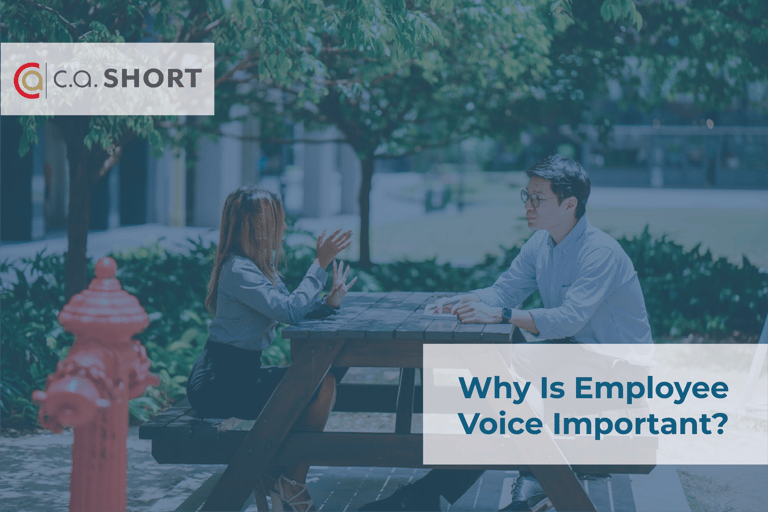 One key to a positive work environment is the ability for employees to feel comfortable and inspired. Environments that allow employees to express their ideas and collaborate openly with coworkers can boost employee morale and overall engagement. By encouraging employees and giving them a voice, you can foster a positive work culture and gain fresh and exciting new ideas.
What Is Employee Voice?
Employee voice is ensuring that everyone working in an organization is able to talk or write about what they see as important. It often refers to the amount of effort a person is willing to put into communicating their suggestions, opinions, concerns, and ideas. By giving your employees a voice you can aim to seek out input that will truly improve productivity and collaboration.
Why is Employee Voice important?
While this may seem like a no-brainer, getting your employees to speak up can be more difficult than you originally thought. When employees feel like they have no voice or are consistently not heard, they will start to remain silent. This is a big problem for businesses and organizations because we often need our employees to bring up issues that may be overlooked.
In today's work environment, recognition and feedback is not enough. Employees want to have productive 2-way open communication and feel like they are making a difference within the company. They want to be a part of an environment that is diverse and inclusive while striving to grow and evolve. By incorporating more employees into decision making processes, you can also incorporate a broader range of ideas and perspectives giving you a more well-rounded approach that accurately represents your business and people.
Benefits of Promoting Employee Voice
By recognizing your employees and ensuring they feel heard you can build on your workplace culture and promote employee growth. Some of the benefits of promoting employee voice include:
IncreaseD Performance
Environments that boost employee morale and promote employee voice can also improve productivity. An article by Forbes stated that Employees who feel their voice is heard are 4.6 times more likely to feel empowered to perform their best work.
Improved Employer Branding and Reputation Management
When employers implement strong employee voice strategies they can give employees the mediums needed to voice their internal issues and work with employers to resolve them. When there are no internal options, employees may take to online forums or even company listing pages to voice their concerns. This can hurt your online reputation and keep potential employees or clients from reaching out to your company.
Improved Organizational Agility
Company voice is also essential for organizations to adapt quickly to changing market conditions. Sustainable change starts with transparency and honesty. Managers sometimes lose touch with the way front-line services are actually delivered to customers. Without understanding the day-to-day insights and operations, managers can not develop a clear plan for moving the business forward.
By encouraging your employees to express their concerns and ideas you can gain knowledge and insight into your company and develop clear goals for improving your workforce. At C.A. Short Company, we can help you easily recognize your employees and promote employee engagement. Sign up for our employee engagement survey today to better understand your employees beliefs, feelings, and overall well-being.