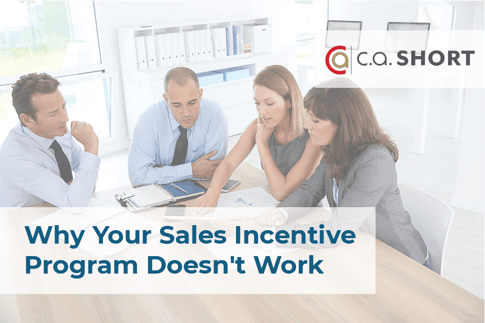 By offering your sales team with unique rewards such as trips, experiences, or fun gifts, Sales Incentive Programs can be a great way to drive revenue and bottom-line growth.
However, without a well-designed plan, as well as buy-in from employees and management, the program may struggle and lack the factors that really motivate your team.
If your sales incentive program is struggling to achieve results you may be a victim of some of the common pitfalls many businesses face.
8 Common Mistakes in Sales Incentive Programs
1. Lack of program measurement.
Before you start your sales incentive program, you need to collect data to understand your starting point and later measure your return on investment over time. This data can help you show what the program is accomplishing and make any needed adjustments as the program moves forward.
Once you have collected your data, you'll need to establish measurable goals that are SMART (specific, measurable, attainable, realistic, timely). Many businesses think the goal of a sales incentive program is to just "increase sales" however, that is not good enough for measuring your program's performance. Setting SMART goals can ensure that the goals are attainable, while pushing your team to success.
2. Incentives are tied to compensation.
Incentive programs should not be confused with compensation. Compensation is often money received for achieving sales, where incentives are offered to a salesperson for exceeding some predetermined sales goal. Successful incentive programs should be kept separate from compensation and provide unique rewards other than cash or gift cards.
Compensation does not equal commitment. A study of post-exit interviews performed by Leigh Branham for an SPHR conference shows that while 89% of employers believe their employees leave to earn more money, only 12% actually do leave for more money.
Most sales companies offer commission-based pay, however providing exciting incentives that motivate employees to meet sales goals and continue company growth can keep employees committed to your organization and inspire them to reach those goals. Sales incentives create a culture of improvement. By constantly working towards new goals, employees are consistently improving their skills, contributing to the culture and performance of the entire team.
3. Only top performers are winning.
When working with a sales team, there will always be team members that perform higher than others. However, this should not solely determine who gets a reward and who doesn't. The goal of an incentive program is to improve productivity and motivate your employees -- you won't achieve this goal by only rewarding a select few.
Slicing up your audiences based on past performance and providing a range of incentives more frequently can help individuals to refine the areas in which they excel. Keep the top and move the middle up, or in other words, retain your best and engage the rest.
A one size fits all program is also not necessarily the best approach when working with sales incentives. Your direct sales team may be segmented by regional managers, salespeople, support personnel, marketers, etc; and each of these personas may serve different roles in the sales process. Your incentives may need to be modified to connect to these different roles and relate to each personal behavioral motivator.
Point-based programs are a great way to motivate all employees because employees can work towards their own individual incentives, with smaller milestones along the way for encouragement to keep striving for long-term targets.
4. Participants don't know about the program.
Lack of communication with your sales team can be a huge downfall to your sales incentive program. You can create the world's greatest incentive, but if you don't do a good job communicating the program it will be ineffective.
Employees increase their performance by 27% when motivated by incentive programs, however incentive plans must also remain consistent enough in order to be engaging. An unpredictable plan with lack of planning can cause confusion and misunderstanding of program goals. A well-designed incentive program has the potential to be fairly easy and instantaneous, but complex plans can prevent employees from reaching their goals, as well as over complicating presentation of rewards.
5. Managers aren't involved.
As mentioned above, poor communication around the sales incentive program can hurt your team's performance. This communication, however, starts with the managers and leadership. It is management's duty to communicate employee goals, discuss company performance, and notify employees of any program changes. Buy-in from leadership and authentic and consistent communication can ensure employees stay motivated and committed to hitting their goals.
6. Offering weak rewards.
Of course everyone wants cash, but if cash was truly the best motivator, every person on the sales team would already be maximizing their commission plans. As many as 65% of employees prefer to have non-cash incentives instead of monetary rewards. In order to truly engage your employees and keep them motivated in the long run you need to provide meaningful and relevant reward choices. An incentive is meant to influence behavior in the short term. If you want to unlock discretionary effort and increase productivity, cash equivalents such as gift cards are the wrong choice.
Providing experiences or unique gifts can help to elevate your incentive program. People tend to assign a higher value to non-cash rewards than the actual retail value of the items. Where cash rewards are often linked to salary compensation in a salesperson's mind, merchandise, travel, and events are often considered as separate, unique rewards that create memories.
7. Ignore goal setting.
Commission caters to the individual, not the company as a whole. When you pay extra commission based on individual sales goals, each employee is only concerned with earning their own commission. Sales incentive programs differ because they empower salespeople to work together to accomplish goals as a team. Programs often suffer when there are not actionable and attainable goals within their program. It's important to find a happy medium when setting goals. Milestones that are too unrealistic will leave a sales team discouraged and stagnant. Where Goals that are too easy to reach, may result in boredom and disengagement.
8. The Program is too long.
Choosing the correct program length is essential to inspiring and motivating your sales team. In order to have success within your program, you'll need to keep employees engaged and focused on achieving their goals. While year-end rewards can offer big pay-outs, your incentive program should focus on re-energizing the team with shorter-term goals.
By choosing to use an engagement platform, program administrators can begin and end promotions as needed, while easily monitoring performance, and setting quarterly or monthly goals.
Motivate Your Sales Team
Drive performance and motivate your salespeople with the help of C.A. Short Company. We have over 75 years of experience crafting unique and innovative employee engagement and reward programs. Our Next Generation Sales Incentives are designed to drive behaviors, tap into emotions and establish the relationships that realize results through a coordinated approach that enables growth. Schedule your free demo to learn how C.A Short can motivate your team and boost sales.