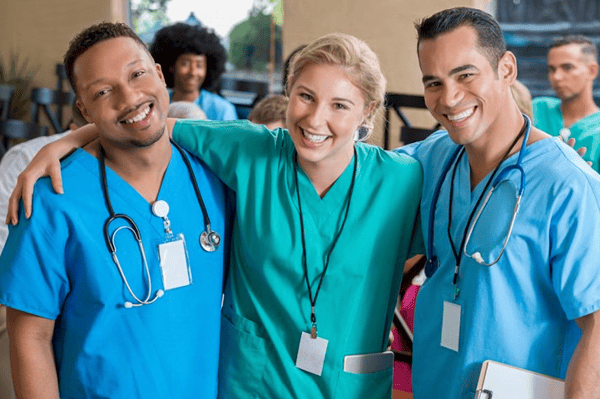 Each year healthcare businesses have a unique opportunity to honor their employees during National Nurses Week and National Hospital Week. With both celebrations falling the week of May 6 - 12, that means you still have some time to prepare.
To help you on your quest, C.A. Short Company has put together a list of last-minute (and cost-effective) ideas you can use during the big week. Let's take a closer look at a few small ways you can make a big impact!
Serve food
Everyone deserves a nourishing meal, especially when they're working long hours. Unfortunately, healthcare workers often forego their breaks and even meals. These actions are part of the reason why healthcare workers are burning out in record numbers.
This makes National Nurses Week and National Hospital Week an excellent opportunity to remind employees how important it is to take care of themselves when they're taking care of others.
When choosing food, you don't have to spend a fortune, but ordering a ton of pizza may not be an ideal solution either. Consider encouraging workplace wellness by providing an array of healthy – and tasty – options.
Snap photos
Everyone needs a good headshot, and your company can make this a reality for your employees by hiring a professional photographer. In addition to making great gifts for your employees, you can also use them to update your organization's website, brochures, and more.
It doesn't have to be "all business, all the time" either – there are many fun ways you can incorporate photography into your celebrations. You can rent a photobooth and let your nurses, doctors, and other hospital staff jump in and take funny photos.
Not in the budget? No worries! You can take the photos yourself with disposable or digital cameras or even use your phone! To make things extra fun, put out a box of silly props your team can use in their photos. Encourage employees to share their pictures across social media with a hashtag that's specific to your company and event.
Send eCards
Sending eCards is a great way to show your employees how valuable they are, especially for large healthcare systems where sending handwritten notes may be impossible.

Sometimes it can be challenging to locate cards that communicate just how important your team is, but that's what we're here for! You can now choose from any of our beautifully designed eCards – four specifically for National Hospital Week and four for National Nurses Week. You can visit the link above or click the button at the end of this article for our complimentary offering.

Thank families
Keep in mind, it's not just your healthcare team that's making sacrifices. Their families also deserve special recognition for their understanding, support, and contributions. Consider sending a gift or personalized note to your employees' homes addressed to their spouses, partners, or entire families.
If your organization is holding onsite events during National Hospital or Nurses Week, be sure to invite your employees' families as well. You can even have fun activities for both children and adults where prizes are awarded.
Reward employees
Speaking of awards, do you know what's better than handing out mugs with your company's logo slapped all over it? Giving employees awards they actually want! But, given the large number of staff hospitals and other healthcare providers have, how do you know what matters most to each employee?

Simply put – you can't. But the good news is you don't have to! You can let employees choose a gift that's meaningful to them by awarding them with points they can redeem for the reward of their choice. This type of recognition shouldn't be limited to National Nurses and Hospital Week either.
Instant award points are perfect for showing your appreciation throughout the year. Consider providing them when employees go above and beyond for a patient, alert you to any potential safety hazard, contribute in a patient safety meeting, or any other time they reflect the vision of your company. If you'd like more ideas on how you can recognize your employees year-round, you can download our complimentary checklist, "Creating a Total Recognition Program."
At C. A. Short, we are your partner for increased employee engagement resulting in increased performance outcomes to grow your bottom line. Our process and research-based platform help you engage your team in order to increase your bottom line, motivate your staff to the benefit of the entire organization, and reward your people for the positive changes they make. To request a Complimentary Consultation, please click here.