Today kicks of the start of the American Nurses Association (ANA)'s National Nurses Week which is hosted annually on the 6th of May and ends on Florence Nightingale's birthday, May 12th. This year the ANA chose the theme "Ethical Practice. Quality Care", which closely aligns with their 2015 Year of Ethics outreach program that is meant to promote and advocate for the health and safety of patients and nurses.
A Brief History of National Nurse's Week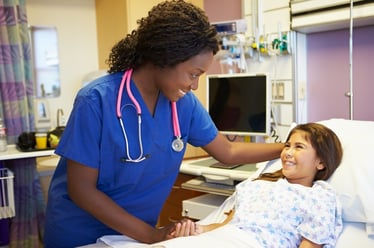 After many attempts by the ANA and the House of Representatives to have a recognized observance of the commitment and compassion of our nation's nurses, National Nurse Week was first officially observed in 1974 by proclamation of President Nixon. Throughout the years, the week began to expand to include National RN Recognition Day and National Student Nurses Day.
Ideas to Celebrate National Nurses Week
Nurses spend 365 days a year pouring their blood, sweat, and tears into providing compassionate, quality care to our nation, and while they deserve validation and recognition on a daily basis, National Nurse's Week is a time dedicated to raising awareness for their efforts.
A few fun ideas to help celebrate National Nurse's Week are:
Host a Company Sponsored Luncheon

: This allows your nurses a much-deserved break and gives an opportunity to celebrate and bond as a team.

Provide Gifts and Awards

: Promotional items such as logo hats, stethoscope clips, or t-shirts are great tokens of appreciation to your staff, but you can also provide custom Instant Award Cards to staff, which gives nurses extra points to be redeemed for name-brand awards online.

Get Festive

: Have your staff decorate their floor based on this year's theme. Make it a competition where the winning floor gets extra points or a paid day off. This activity also doubles as an opportunity for team bonding.

Be Personal

: Make the effort to write hand-written thank you notes as a sign of your appreciation for all that your nursing staff does for patients on a daily basis. Hand-written thank you notes have become increasingly rare to receive, and this simple act can make a profound difference in employee recognition and employee morale.

Send eCards

: As part of your total engagement platform, send customized eCards to your nurses expressing your gratitude. eCards can be given with or with a point value attached to redeem for rewards, so it makes it for an easy, and memorable gesture.

Share Success Stories Publically

: Post some of the best patient comment card or survey responses on a bulletin board or company newsletter. This not only recognizes your nurses for their work but also sets the tone for a high standard of care within your practice.
I've written before about the changing employee recognition landscape within the healthcare industry, and that while traditional years of service awards still play an important role in any recognition strategy, service awards have begun to be part of a more comprehensive points-based platform. What this means is that healthcare facilities have realized that a once a year service award acknowledgment or a gold lapel pin is no longer enough. By building a holistic recognition strategy that aligns with your facilities mission and values, you are able to create a culture of recognition and engagement throughout your organization. National Nurses Week activities and awareness are crucial to achieving that comprehensive approach to employee recognition.
On behalf of the C.A. Short Company team, we thank you and your team for your care and dedication to the health of our communities and our nation!
At C. A. Short Company, we are your partner for increased employee engagement resulting in increased performance outcomes to grow your bottom line. Our process and research-based platform help you engage your team in order to increase your bottom line, motivate your staff to the benefit of the entire organization, and reward your people for the positive changes they make. To request a Complimentary Consultation, please click here.