The History of National Nurses Week & How to Celebrate [May 6-12, 2023]

C.A. Short Company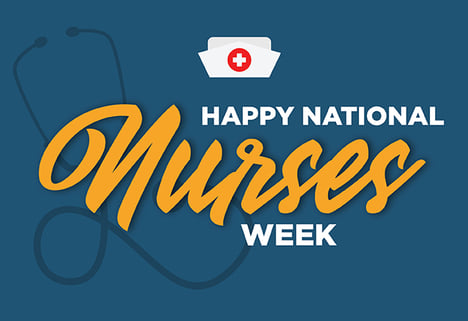 American Nurses Association (ANA)'s National Nurses Week is celebrated each year from May 6th through May 12th.
A Brief History of National Nurses Week
1953
Dorothy Sutherland of the U.S. Department of Health, Education, and Welfare sent a proposal to President Eisenhower to proclaim a "Nurse Day" in October of the following year. The proclamation was never made.
1954
National Nurse Week was observed from October 11 - 16. The year of the observance marked the 100th anniversary of Florence Nightingale's mission to Crimea. Representative Frances P. Bolton sponsored the bill for a nurse week. Apparently, a bill for a National Nurse Week was introduced in the 1955 Congress, but no action was taken. Congress discontinued its practice of joint resolutions for national weeks of various kinds.
1972
Again a resolution was presented by the House of Representatives for the President to proclaim "National Registered Nurse Day." It did not occur.
1974
In January of that year, the International Council of Nurses (ICN) proclaimed that May 12 would be "International Nurse Day." (May 12 is the birthday of Florence Nightingale.) Since 1965, the ICN has celebrated "International Nurse Day."
1974
In February of that year, a week was designated by the White House as National Nurse Week, and President Nixon issued a proclamation.
1978
New Jersey Governor Brendon Byrne declared May 6 as "Nurses Day." Edward Scanlan, of Red Bank, N.J., took up the cause to perpetuate the recognition of nurses in his state. Mr. Scanlan had this date listed in Chase's Calendar of Annual Events. He promoted the celebration on his own.
1981
ANA, along with various nursing organizations, rallied to support a resolution initiated by nurses in New Mexico, through their Congressman, Manuel Lujan, to have May 6, 1982, established as "National Recognition Day for Nurses."
1982
In February, the ANA Board of Directors formally acknowledged May 6, 1982 as "National Nurses Day." The action affirmed a joint resolution of the United States Congress designating May 6 as "National Recognition Day for Nurses."
1982
President Ronald Reagan signed a proclamation on March 25, proclaiming "National Recognition Day for Nurses" to be May 6, 1982.
1990
The ANA Board of Directors expanded the recognition of nurses to a week-long celebration, declaring May 6 - 12, 1991, as National Nurses Week.
1993
The ANA Board of Directors designated May 6 - 12 as permanent dates to observe National Nurses Week in 1994 and in all subsequent years.
1996
The ANA initiated "National RN Recognition Day" on May 6, 1996, to honor the nation's indispensable registered nurses for their tireless commitment 365 days a year. The ANA encourages its state and territorial nurses associations and other organizations to acknowledge May 6, 1996 as "National RN Recognition Day."
1997
The ANA Board of Directors, at the request of the National Student Nurses Association, designated May 8 as National Student Nurses Day.
How to Celebrate National Nurses Week
Nurses Week is an opportunity to celebrate the healthcare professionals in your life. Nurses have always been at the frontline of patient care and deserve above and beyond recognition. Nurses Week is the perfect opportunity to go above and beyond to appreciate the nurses around you.
Here are 8 ideas to show appreciation for nurses during Nurses Week:
1. Host a Company Sponsored Luncheon
A luncheon will allow your nurses a much-deserved break and gives an opportunity to celebrate and bond as a team.
2. Send a Relaxation or Pamper Kit
Create a relaxation or pamper kit to send to your coworkers as a gift. This kit can include:
Candle
Bath bomb
Body butter
Lip balm
A bottle of wine
Bath robe
Insulated wine or coffee tumbler
and much more!
3. Handwrite a Thank You note
Handwritten notes are often a thing of the past, which makes them even more special. Receiving a physical note from someone is an excellent way to show them you care.
4. Share Success Stories Publicly
Post some of the best patient comment card or survey responses on a bulletin board or in your company newsletter. This not only recognizes your nurses for their work, but also sets the tone for a high standard of care within your practice.
5. Pop-Up Campaign
Send an email to all nurses thanking you them for their dedication. Within this email will be a link for your staff to choose a pre-selected gift to make their week even more memorable and full of appreciation.
6. Send an eCard
Send customized eCards to your nurses expressing your gratitude. eCards can be given without or with a point value attached to redeem for rewards, so it makes it for an easy, and memorable gesture.
7. Bring Coffee to Your Team
Coffee is the perfect pick-me-up. Show appreciation by starting your coworkers shift with an extra dose of caffeine.
8. Say Thanks
Saying thank you is one of the easiest ways to show appreciation during Nurses Week.
Employee Recognition in Healthcare
While traditional years of service awards still play an important role in any recognition strategy, service awards have begun to be part of a more comprehensive points-based platform.

What this means is that healthcare facilities have realized that a once a year service award acknowledgment or a gold lapel pin is no longer enough.
By building a holistic recognition strategy that aligns with your facilities mission and values, you are able to create a culture of recognition and engagement throughout your organization. National Nurses Week activities and awareness are crucial to achieving a comprehensive approach to employee recognition.
At C. A. Short Company, we are your partner for increased employee engagement resulting in increased performance outcomes to grow your bottom line. Our process and research-based platform help you engage your team in order to increase your bottom line, motivate your staff to the benefit of the entire organization, and reward your people for the positive changes they make. To request a Complimentary Consultation, please click here.
Editor's Note: This blog was originally published in 2015 and has been recently updated.