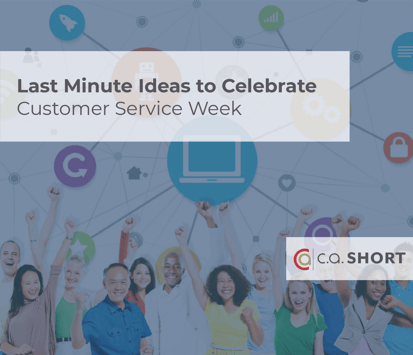 The following blog contains many ideas you can use to customize your recognition strategy for your staff. We've also prepared posters and eCards to make recognition easy! You can download these resources -- for FREE -- at the end of this post.
While most of our clients feel that recognizing their customer service staff is extremely important, four out of ten report a lack of time and being too busy as roadblocks to designing and implementing a high impact, knock-your-socks-off program for their people.
Customer Service Week (October 5-9, 2020) is fast approaching, and we want to help you have the best week possible while celebrating your customer service organization. CS Week is a fantastic time to show appreciation for all the hard work that your team does throughout the year to help make your company a success. Best of all, it's not too late! You still have time to find that perfect solution.
In fact, our one-stop, quick setup, People Are Everything program can help you meet your immediate goals for Customer Service Week. Let us help you with your last minute push!
Success Starts With Creative Ideas
Here are some awesome ideas for a great Customer Service Week. We have highlighted a few items that you can do in conjunction with our People Are Everything platform. Points that are bold are included in our PAE platform.
Celebrate employees who have received great reviews on transactional surveys and online review sites like Google, Yelp, and Facebook.
Write a handwritten note acknowledging a job well done—which is still greatly appreciated and can stand out vs. an email
Send an eCard to your employees and their managers or executives highlighting their contribution and how much it's appreciated.
Share a story of appreciation in a team meeting in front of their peers. Create a wall of appreciation and post the story to the wall. Have other leaders do the same.
Empower and enable peers to celebrate outstanding customer service. Allow them to nominate those who've made a significant impact on a customer/client.
Empower managers to recognize employees instantly using Instant Award Cards and On-the-Spot Cards.
Reward those front-line employees who are customer facing, and those behind the curtain who also contribute but may not be named by the customer. It is easier to do this by setting and rewarding team goals.
Invite employees to contribute to the company blog. They are are the front line and talk to your clients every single day. They know what questions are asked the most and what needs to be clarified in the communication strategy for our products and services.
Focus on the well-being of your employees by having a fruit harvest event and treat your employees to fresh fruits one day of the week.
Use our People Are Everything Platform to improve employee engagement during Customer Service Week by posting event notices and photos of what's going on. Have an engagement goal for the week and strive to reach new heights with your index or meter.
Consider perks that include ways to destress, such as bringing in a masseuse for the department.
Reward for individual goals, team goals, and departmental goals…"Pizza Day" is very affordable in these cases.
Create a career-centric day during the week. Resume reviews, interviewing skills workshops or webinars and business dress fashion shows are all part of a well-planned week and give the employees useful information they can use for the future.
Invite your top CSRs to the next Leadership Team meeting to give a "tech talk"— what are they seeing on the front lines, their experiences with our products and their recommendations for how to make the company better. Just being heard by those who can do something about it is a big perk!
Theme out your week. Examples include:

Superheroes of Service
Finding The Magic in You
People Are Everything
These are great ways to build out fun days with contests, dress up days, etc. The theme should encourage everyone to show off their individualism while remaining part of the bigger picture. Reward everyone for their participation.
Throw a team spirit day where your employees dress in your corporate colors. This is always a big hit...have a contest around which team participates the most.
Play BINGO through email during the week. This is popular in the Call Center world where employees may not have as much opportunity to participate in other events. Award points or Instant Award Cards as prizes
Have a team pumpkin decorating contest. Leave the knives at home and get out the paints and glue. I have seen some of the most amazing things done with pumpkins during Customer Service Week. Then display them all for the month. Just look at these examples: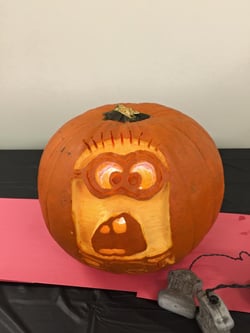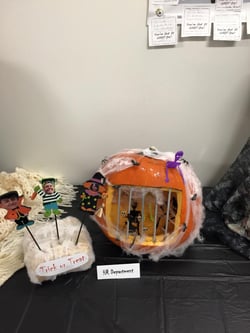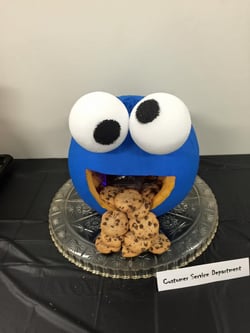 The main point here is that celebrating can look very different in every organization, but as long as you take the time to enjoy Customer Service Week with your employees and show them that they are appreciated, then you have done your job! From simple to extravagant (I used to bring a carnival company onto the property for one day each CS Week), you can have the best CS Week ever with a little thought.
Learn How C.A. Short Company Can Help
To learn more about how C.A. Short Company can make your Customer Service Week a smashing success, please contact us for a free consultation.
With a points based program, you can create a plethora of contests and fun exercises to utilize your platform during Customer Service Week—from the simplest idea (such as Counting The Candy in The Jar) to the most complex (like having employees recite your mission statements from memory on camera). We will help you explore creative ways to bring the fun into the office and use your platform and program to support your campaign.
C.A. Short Company partners with companies to manage, drive and facilitate increased employee engagement to increase financial performance, productivity, quality, and core performance outcomes. Our process and research-based platform enables executives and managers to engage their teams to increase the bottom line, motivate staff, and incentivize positive behavior. To request a Complimentary Consultation, please click here.