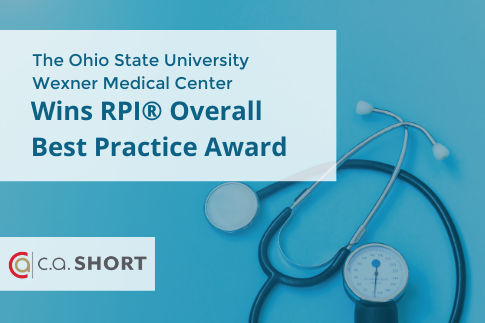 Shelby, NC: C.A. Short Company is proud to announce that The Ohio State University Wexner Medical Center has won the Recognition Professionals International 2020 Overall Best Practice Award.
C.A. Short used its People Are Everything™ employee recognition platform to help the Ohio State Wexner Medical Center's Bravo Program provide tools and resources that fulfill day-to-day needs and increase recognition practices. The interactive platform allowed the program to offer nomination based-awards and manager tools for monitoring program performance and engagement levels.
The RPI "Best Overall Recognition Program" award recognizes programs that are outstanding overall, encompassing the 7 RPI Best Practice Standards®. These standards are based on academic literature, professional conferences, and experiences in developing successful recognition programs. They are used to create and evaluate programs in large and small organizations.
The 7 RPI Best Practice Standards®:
Standard 1: Recognition Strategy
Standard 2: Management Responsibility
Standard 3: Recognition Program Measurement
Standard 4: Communication Plan
Standard 5: Recognition Training
Standard 6: Recognition Events and Celebrations
Standard 7: Program Change and Flexibility
The People Are Everything™ Platform offers leading employee engagement technology in an easy-to-use portal. The platform helps managers maintain engagement levels with configurable dashboards, while providing opportunities for daily recognition, birthday celebrations, and more. The "rec room" function provides communication updates, while the resource center allows management to store company files, handbooks, and program information. By utilizing PAE, companies are able to honor company milestones, send e-cards in an instant and connect their workforce for total recognition.
About C.A. Short Company: Established in 1937, C.A. Short Company is privately-held and headquartered in North Carolina with offices across the United States. With over 150 employees and more than 3,000 customers, They are members of the Society of Human Resources Management (SHRM), Recognition Professionals International (RPI), National Safety Council (NSC), and the Better Business Bureau (BBB). They have been ISO 9001-certified since 2005 and have an A+ BBB rating.