ProcessMAP and C.A.Short Company Launch a Unified Solution for Proactive Safety Management

Jeff Ross, CPA, CRP, CSM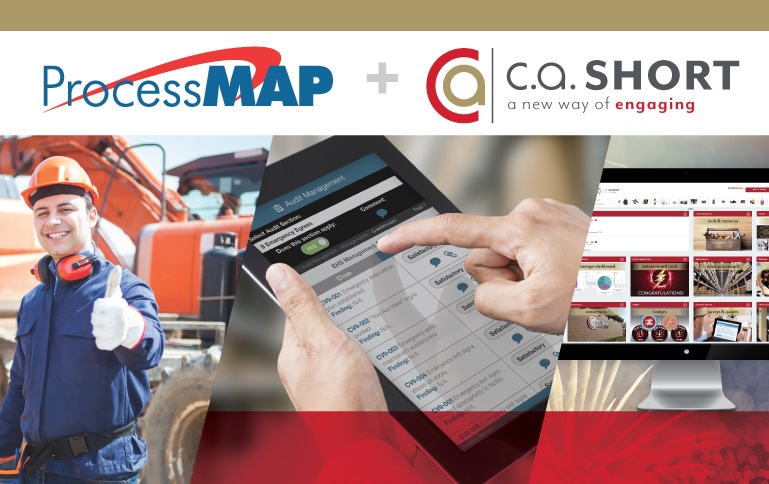 Earlier this year we met internally to talk about how we see our role in safety incentives in the workplace. And the one thing we all kept coming back to is that we are "all-in" on helping organizations build a culture of safety that drives increased performance and job loyalty.
That's why we took our OSHA-Compliant Safety Incentive Program to the next level by partnering with ProcessMAP, the industry's leading data intelligence cloud platform for Risk, Health, and Safety Management.
We've built an integration between our Safety Incentive platform and ProcessMAP's data intelligence platform to bring you the best of both worlds with complete ease. With this collaboration, you can consolidate your health & safety program management with employee engagement and recognition processes driving safety-focused employee behavior.
This is a game-changer for our clients and we wanted you to be the first to know.
I'm pleased to release the following announcement regarding our official partnership with ProcessMAP.
Official press release
SUNRISE, Fla. & SHELBY, N.C.--(BUSINESS WIRE)--ProcessMAP, the industry's leading data intelligence cloud platform provider for Risk, Health and Safety management and CA Short Company, an industry leader in Employee Engagement and Safety Incentive Programs announced the launch of a joint offering to ensure organizations have a better, safer and more productive work-culture. With this offering, organizations can consolidate their health & safety programs management with employee engagement and recognition processes driving safety-focused employee behavior.
ProcessMAP and C.A.Short Company Launch a Unified Solution to bring together advanced data intelligence and employee engagement. This is the next generation of safety-driven work culture.
Safegagement™, a process created by C.A.Short Company, reflects the underlying fundamentals of the partnership which brings "safety" and "employee engagement" together to reward and foster awareness, behavior, and overall culture towards occupational safety.
The integrated solutions offered by ProcessMAP and C.A.Short Company will help customers realize key business objectives, such as:
Reduced risks associated with safety incidents and audits

Better and safer work culture, and regulatory compliance

Insurance claim mitigation

Greater engagement among employees

Productive employees leading to higher customer satisfaction, higher quality outputs, and an increased bottom line
"At C.A. Short Company, our focus has been on providing enterprises with simple but effective solutions that drive results to the bottom line, through our ability to consolidate multiple recognition and engagement programs onto one platform," says Jeff Ross, CEO & CFO at C.A. Short Company.
"Employee engagement is the cornerstone of building a work-culture that's focused on safety," said Harold Gubnitsky, President of ProcessMAP. "While ProcessMAP has enabled customers to address health and safety risks from a technology standpoint, our partnership with C.A.Short Company will significantly augment the value that our customers can derive from having better employee engagement with their safety programs."
About ProcessMAP Corporation
ProcessMAP Corporation is the leading provider of cloud-based enterprise software solutions that empower organizations to manage risk related to Employee Health & Safety and Enterprise Compliance. The company is headquartered in Sunrise, Florida, with locations across the globe, serving customers in over 135 countries. For more information, visit ProcessMAP.com.
About C.A.Short Company
C.A. Short Company was founded in 1937 and is a privately held company headquartered in North Carolina with offices across the U.S. C.A. Short Company partners with organizations to manage, drive, and facilitate increased employee engagement to increase financial performance, productivity, quality, and core performance outcomes.
Its process and research-based employee engagement and recognition software platform enables executives and managers to increase the bottom line, motivate staff, and incentivize positive behavior. C.A. Short Company brings the following solutions to its clients: employee recognition solutions, employee engagement solutions, OSHA-compliant safety incentive solutions, service and performance awards, wellness programs, and more.
For more information, visit www.cashort.com