Employee Anniversary Recognition: 5 Benefits of Celebrating Work Anniversaries

C.A. Short Company
It's possible to become so wrapped up in tradition, we can forget why we're doing something. When that happens, we run the risk of simply "going through the motions." Sadly, this occurs far too often when it comes to honoring employees for their loyalty and commitment.

Celebrating employee milestones with service awards has been a mainstay of American culture for decades. And while a majority of businesses, especially those in competitive markets, still participate in such programs, few understand why they're doing it.
Why You Should Celebrate Your Employee's Work Anniversaries
Many benefits can come from honoring your employee's anniversary with your company, especially when celebrated with service awards. Below are five potential outcomes that can occur when you show your employees how much you appreciate them.
1. COMBAT EMPLOYEE TURNOVER AND IMPROVE RETENTION RATES
Improving employee turnover and retention rates goes beyond great benefits and a stable work environment.
The Cost of Turnover Is High
Frequent voluntary turnover has a negative impact on employee morale, productivity, and company revenue. Recruiting and training a new employee requires staff time and money,
Consider the cost:
The cost of hiring a new employee including advertising, interviewing, screening, and hiring.

The cost of onboarding a new hire, including training and management time.

Lost productivity - it may take a new employee one to two years to reach the productivity of an existing employee.

Lost engagement - other employees who see high turnover tend to disengage and lost productivity.

Customer service and errors - for example, new employee take longer and are often less adept at solving problems.

Training costs - for example, over two to three years, a business likely invest 10 to 20 percent of an employee's salary or more in training.

Cultural impact - whenever someone leaves, others take time to ask why.
A lack of recognition may cause employees to feel unacknowledged for their hard work. They may resent a lack of career development or a low salary, especially if it's not competitive for the region you're in.
Lack of recognition is the number one reason most employees leave their jobs. A 2017 study found that 66% of workers would quit their jobs if they didn't feel appreciated. When the participants were segmented by generation, Forbes discovered that 75% of millennials would leave an employer that failed to adequately recognize their contributions.
Offering awards for the time individuals have spent with your company, you are boosting the entire company's morale by showing that you value employee's contributions.
2. GAIN THE INTERESTS OF TOP TALENT
Service awards don't just help you retain your current employees, they also help you attract future ones by showing how much you care about your team.
With so much of the workforce feeling underappreciated, it's no wonder the majority of workers – including 60% of millennials – are actively looking for jobs. This provides a tremendous opportunity to separate yourself from the competition and show the world how much your organization values its employees.
One of the ways you can do this is by publicly recognizing your loyal employees. This sends a powerful message to prospective hires: we value and reward our employees.
Future talent prospects will be more likely to join your company if you regularly celebrate employee anniversaries.
3. HELP CREATE A CULTURE OF TOTAL RECOGNITION
For your recognition efforts to deliver maximum results, it's imperative your company fosters a culture of recognition. This requires showing appreciation across three core levels:
Formal recognition
Formal recognition is a structured program with defined processes and criteria linked to your organizational values and goals.
With formal recognition, there is a nomination and selection process. Employees are then recognized publicly during an awards ceremony.
Formal recognition is often celebrated annually and typically reaches 5% to 24% of your organization.
Informal recognition
Informal recognition is for individuals or teams for progress toward milestones, achieving goals, or project completion.
Celebrations may include points, gifts, or refreshments to celebrate achievements or behavior changes.
It is less structured than formal recognition and typically reaches 25% to 75% of your organization.
Day-to-day recognition
Day-to-day recognition is frequent, ongoing, and informal. It's designed to recognize behaviors that support your organizational values.
All employees have the opportunity to give and receive recognition. It reaches 76% to 100% of your organization.
Examples include verbal recognition, thank you notes, eCards, or Instant Award Cards that can be given by peers or management staff.
Service awards are a cornerstone of formal recognition. Traditionally, these awards are given once a year during a banquet. With only a few employees honored for hitting significant work anniversaries, the ceremony and award presentations should be customized for each recipient.
4. REAP THE BENEFITS OF AN ENGAGED AND RECOGNIZED WORKFORCE
Gallup's latest State of the Workplace found that companies in the top quartile of employee engagement compared to those in the bottom-quartile exhibited: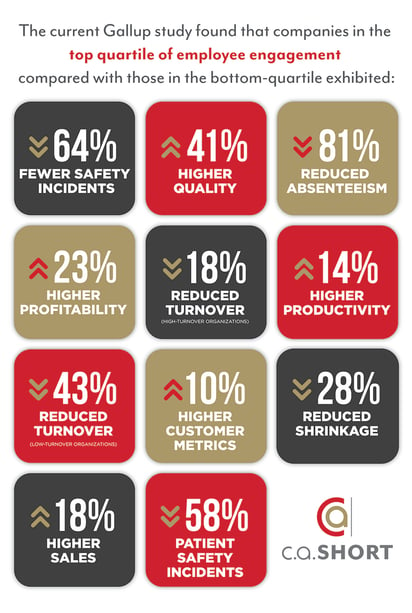 5. FEEL CONFIDENT IN THE ENVIRONMENT YOU ARE CREATING
Your employees are more than just the name on their desk or a number in your payroll.
Employees have a choice when it comes to their employers, so make sure they know they're making the right one by illustrating how much you value and appreciate their service.
C.A. Short Company Employee Anniversary Recognition
Highlights of a C.A. Short Company service anniversary award recognition program include:
Guaranteed Fixed Budget Control

100% Satisfaction Guarantee on Awards

Meaningful & Country Specific Award Choices

Advanced Reporting & Analytics

Dedicated Account Management


Dynamic Employee Engagement Platform