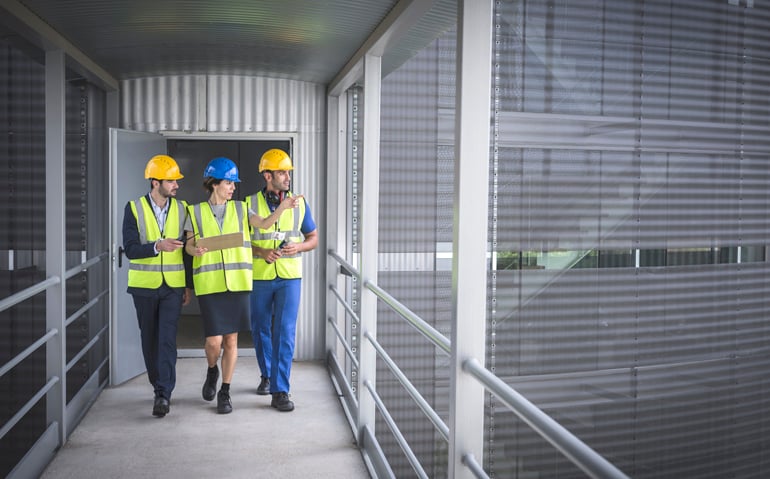 This June, National Safety Month arrives once again to remind us all of the unwavering importance in creating a Culture of Safety in the workplace. After all, positively overhauling the safety culture within your organization is shown to improve safety performance among your employees – an important point recently echoed by the National Safety Council in advocating for safety culture and effective safety management.
But what are some of the best strategies you can apply right now to understand what your company's culture requires to inspire the best safety performance? While continual feedback and support for workers is always important, let's delve into some of the main nuances behind Safegagement™ and creating safe companies that thrive.
1. Examine Leading and Lagging Indicators
Metrics that indicate past performance – or lagging indicators – have historically provided companies with an after-the-fact, "days since last safety incident" mentality. This data is important, of course, but only addresses one side of the matter. Instead of waiting for an incident to occur, you can take the reins of employee Safegagement by preventing future incidents from occurring altogether. Use leading indicators as a prerequisite to safety by identifying unsafe conditions and near-misses before they happen.
2. Provide Frequent Feedback and Training to Bolster Employees' Efforts
The annually-occurring performance review could be a thing of the past! One-and-done training – such as employees participating in a single safety seminar or receiving unsupported printed information – yields exceedingly low engagement and safety results. What works wonders in this area is providing a safety training program that is both ongoing and interactive, and one that rewards employees for their safety efforts. Having ongoing conversations, coaching "moments," and leading by example will help contribute to higher quality interactions with your people. Letting them know they're doing great and uplifting them when they are not, will help build the foundation needed for Safegagement to occur.
3. Offer Instant Values-Based Recognition
It's important that employees are recognized for their safety successes right when they occur. Waiting for a bonus or special ceremony to congratulate a worker's efforts are often undermined, as the employee may not remember the specific task for which they're being rewarded. On the flip side, creating an effective Culture of Safety subsists in rewarding instant values-based recognition for your top safety performers.
4. Consider Adding a Wellness Program for Your Workers
A healthy worker is a happy worker. And a happy worker is best prepared for tackling important safety issues as they occur. Why not think about adding a wellness or health program for the benefit of your workforce? The investment can reap dividends in the form of energized, safety-minded workers engaged with completing their tasks in correct and healthy ways. Rising healthcare and insurance costs can be detrimental to the bottom line. Healthy, fit, and engaged employees miss less work, get hurt less, and cause less accidents, efficiently contributing more to the goals of the organization.
5. Choose an OSHA-Compliant Safety Incentive Program
One of the most important steps in recognizing your employees for their safety successes is choosing a safety incentive program that is completely OSHA-compliant. To be sure your program is compliant, you'll want to work with a company that specializes in customizing such wide-sweeping efforts in regulated sectors and industries. Thankfully, C.A. Short offers safety incentive programs that are 100% OSHA-compliant.
We have more than 80 years of experience in the employee engagement, recognition, and safety industry, and we'd love to help create an OSHA-compliant safety incentive program that will improve your company's day-to-day performance. We're here to help tailor a program that meets the unique safety needs of your organization while providing recognition and incentives that are both desirable and coveted by your teams.
6. Create a Culture of Safegagement
Download our complimentary white paper Safegagement: Creating Safe Companies That Thrive to learn the "Five Components of Safegagement" and start encouraging all employees to participate in the adoption of Workplace Safety. By establishing a Culture of Safety within your organization, your employees will thrive along with your bottom line.
Ready to get started? The best thing you can do for your employees is promote Safegagement attributes among your workforce.
C.A. Short Company partners with companies to manage, drive and facilitate increased employee engagement to increase financial performance, productivity, quality, and core performance outcomes. Our process and research-based platform enables executives and managers to engage their teams to increase the bottom line, motivate staff, and incentivize positive behavior. To Request a Complimentary Consultation, click here.