How to Boost Employee Morale and Engagement

R Scott Russell, CRP, CEP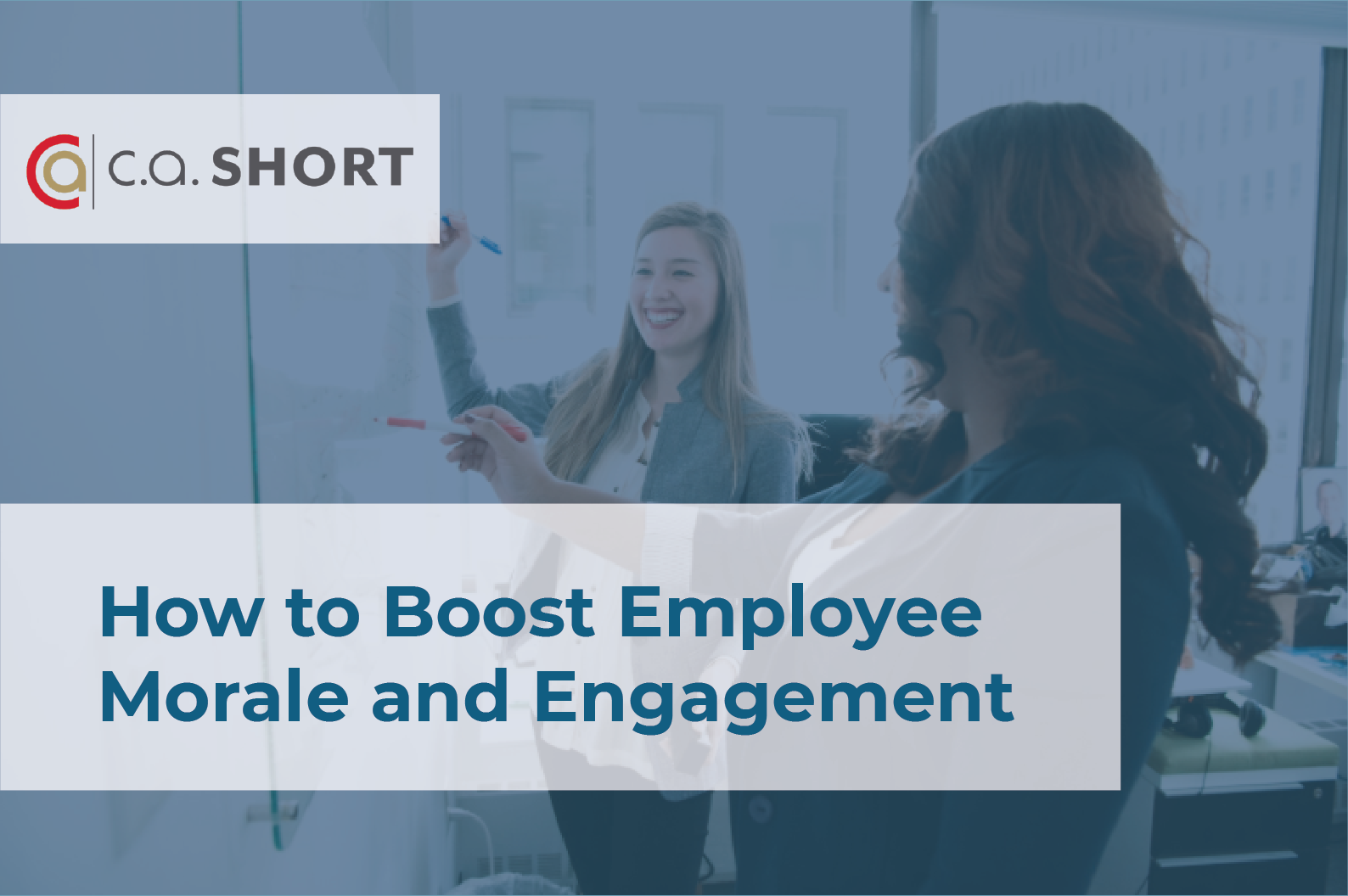 Having an environment where employees may feel down or uncertain about the future, building employee morale can help shape company culture and ensure motivation in the workplace. If your employees are currently in low spirits, try implementing some of our employee morale boosting activities to improve overall energy and encourage your employees. It appears we're coming out of this thing. The COVID... We will be returning to a "normal" soon. However, our people will be slightly different. Morale will be an issue.
What is Employee Morale?
Employee morale is defined as the description of emotions, attitude, satisfaction, and overall outlook of employees during their time in a workplace environment. When employees are happy and positive at work they are often demonstrating high employee morale, employees who are dissatisfied or negative about their work environment may be experiencing low employee morale.
Importance of Employee Morale
Employee morale often correlates with productivity and an overall positive workplace culture. Employees who are engaged take initiative and create a workplace culture that also raises the morale of their coworkers. Employees with high morale are often motivated to perform well during their projects or jobs. This often exudes energy and enthusiasm and reflects well on your company as a whole. Employees who exhibit high morale are often encouraging to their coworkers and help to stimulate a creative and uplifting work environment.
When employees exhibit high levels of motivation, they are willing to go above and beyond for coworkers and in their job performance. They are willing to problem-solve and resolve issues in an efficient manner. High employee motivation is often determined by the source of the motivation. Employees motivated by a desire for a raise may stop working hard once they get that raise. However, employees motivated by high morale will keep their motivation as long as their morale is high.
What Causes Low Employee Morale?
Negative or low employee morale is often problematic because it can lead to high turnover and reduced productivity. There are multiple factors that can cause a negative work environment and decrease morale. Some of these factors include:
All Work and No Play...
Unclear or Unrealistic Employee Expectations
Peer 2 Peer Strife
High Stress & Pressure Environments - Micro Management
Lack of Effective Communication and Trust
Lack of Advancement Opportunities
Employee Recognition is Sparse or Missing Completely
Lacking Visionary, Empathetic Leadership
How to Rebuild Team Morale
Once employee morale starts to decrease, it can be hard to recover and rebuild team morale. As a manager or HR professional, there are a variety of strategies and activities you can incorporate to build morale and create a positive work environment. Company-wide activities & occasional gatherings, especially the"Town Hall Meeting", are great for fostering teamwork, building trust and fostering relationships in the workplace.
employee engagement Survey
A great way to boost engagement and gain employee insight into employee feelings is to conduct an Employee Engagement Survey. When employees are engaged with their work, they're more fulfilled and more motivated. When employees truly feel they have a voice, via these tools, the company-employee bond gets stronger. Employee Engagement Surveys are designed to measure and assess how motivated and engaged your employees are to perform their best at work each day. Popular surveys such as the Gallup Q12, utilize scores based on a 1 to 5 scale, to highlight employee feelings and beliefs. These surveys quickly show where we need to get better.
Questions on an employee engagement survey can sometimes include or be similar to:
Leadership clearly communicates the organization's goals and values.
I receive the support I need to succeed from my manager.
I have a clear understanding of my job role.
There is a good level of positive energy shown by other staff members.
C.A. Short Company is a leader in helping employers engage and recognize their employees. As our give back, we are offering our highly-distinguished "People Are Everything" employee engagement survey to businesses for free. You can utilize this survey to quickly gauge the well-being of your teams and stay connected with remote employees.
Morale Boosting Events
From the "virtual" happy hour to trivia nights, company sponsored events are a great way to reduce stress along with creating a relaxed environment. Most bars and restaurants that have Trivia nights offer theme nights related to TV Shows or movies. This is a great way for coworkers to bond if they share similar interests. However, you could also host your own trivia night, even make it virtual. Trivia is a great way to have people work together, and having a variety of questions gives everybody a chance to contribute.
Another great morale boosting event is to sponsor a conference, convention, or seminar. Professional growth is often a key factor in employee satisfaction. By encouraging employees to attend, they can grow their professional skills and gain valuable insight to grow within their career.
The good old fashioned "Town Hall" meeting is another ideal way to build trust, provide vision and connect with employees on a more personal level. Our employees simply want to know how they're doing and then how are "we" doing. Let them know.
Office Games to Boost Morale
Involving your team in office games are a great way to stimulate teamwork and reduce stress. Exercise is great for releasing endorphins and hosting a sports day can keep employees active. Get your employees moving around with an outside game of kickball or rent a few lanes at your local bowling alley.
If your employees prefer something less strenuous and prefer more puzzles and challenges, try hosting a company-wide scavenger hunt. Split employees into teams and send them around the city to photograph items on a checklist. First team to find all of the items, wins!
Escape rooms have popped up nationwide and are a great team building activity. Escapees are often locked in a room with a few other team members and are given an hour to solve clues in order to escape the room. Employees must communicate effectively and work together to solve the puzzle. Different escape rooms have different difficulty levels so you can really put your employees to the test to beat the clock. In the end, it's about having some fun, blowing off steam and getting closer to our colleagues.
C.A. Short Company is dedicated to helping companies connect with their employees and improve employee engagement. Our various recognition programs such as our People Are Everything Employee Recognition Platform can help you reward your employees for their hard work as well as promote engagement in the workplace.
Contact Us today to see which of our solutions will best assist in boosting morale in this ever changing workplace. Be well everyone...