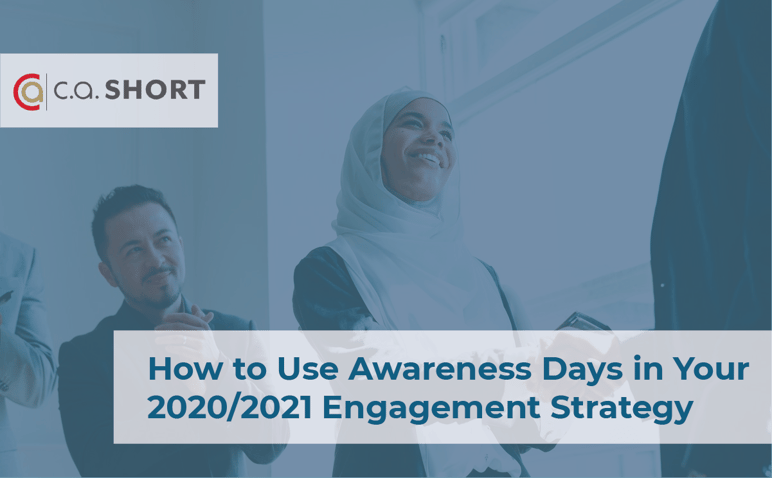 If you're like me, you've probably seen an awareness day or two floating around your Facebook and social media accounts in the form of National Taco Day or National Pizza Day. While these days can often feel manufactured, with some created for the sole purpose of boosting an industry, when implemented correctly you can use these select awareness days to increase employee engagement and foster rewards and recognition.
Planning Your Recognition Strategy
The first step to utilizing awareness days in your recognition strategy is to plan which days would be valuable to your team. There are a variety of awareness days, weeks, and months linked to different industries and can stimulate unique activities and draw in appreciation.
Awareness weeks such as National Nurses Appreciation Week, Truck Driver Appreciation Week, and Customer Service Week highlight how different industries can use these opportunities to further recognize their key players. These lesser known awareness days or weeks can offer additional themes and a short-term focus for program boosts.
Incorporating Awareness Days Into Your Recognition Program
Many National Awareness days are centered around causes and appreciation, making them a natural fit for reward and recognition programs. Incorporating different days and holidays can make your program fun and exciting.
A few examples of how to use awareness days in your program include:
Diet Resolution Week
Every year, many people make New Year's resolutions to lose weight, diet, or commit to a healthier lifestyle. While promoting dieting is not necessarily the best way to encourage a healthy lifestyle, recognizing employee wellness in the form of gym memberships, activity challenges, or offering healthy snacks for a clean lifestyle can offer just as many great benefits. Showcasing the benefits of a healthy lifestyle during this week can tie into your wellness program and improve engagement.
International Women's Day
International Women's Day is meant to empower women and celebrate their contributions throughout history. You can use this day to recognize valuable female members of your team by celebrating their accomplishments and impact in their families, communities, and the workplace.
National Safety Month
June is recognized as National Safety Month and is a great opportunity to promote workplace safety and implement rewards for safe work practices. Implementing incentive-based safety programs offer your organization a ton of benefits, including reducing unsafe behavior, improving workplace morale, and minimizing lost production hours.
To learn more about the benefits of safety incentive programs, read our blog on Do Behavior-Based Safety Programs Work.
National Taco Day
Not all awareness days have to be centered around your specific industry. Sometimes it's just nice to have something fun to celebrate and bring your team together. Awareness days such as National Taco Day, National Donut Day, or even National Coffee Day can allow you to do something extra for your valued team members, while improving your workplace culture and stimulating employee relationships.
C.A. Short and Recognition Programs
C.A. Short Company has over 80 years of experience building employee engagement and recognition programs. We craft custom programs aimed at increasing individual engagement, while helping you keep and retain top talent. Combined with our People Are Everything™ platform, you can easily reward and incentivize your employees with unique items and experiences. View our full list of 2020/2021 Awareness Days and Holidays below, and schedule your free demo, to learn how our recognition platform can enhance your existing recognition program.
2021 Awareness Days For Recognition Programs
2021 Awareness Days & Holidays
Martin Luther King Jr. Day - (January 18th, 2021)
Diet Resolution Week - (January 3 - 9, 2021)
Valentines Day - (February 14th, 2021)
National Nutrition Month - (March)
Employee Appreciation Day - (March 5th, 2021)
International Women's Day - (March 8th, 2021)
National Doctor's Day - (March 30th, 2021)
National Stress Awareness Month - (April)
National Administrative Professionals Day - (April 21st, 2021)
National Nurses Appreciation Week - (May 6 - 12, 2021)
National Hospital Week - (May 10 - 16, 2021)
Memorial Day - (May 31st, 2021)
National Safety Month - (June)
Independence Day - (July 4th, 2021)
Truck Driver Appreciation Week - (September 12 - 18, 2021)
National Assisted Living Week ™ - (September 12 - 18, 2021)
Labor Day - (September 6th, 2021)
Breast Cancer Awareness Month - (October)
National Taco Day - (October 4, 2021)
Customer Service Week - (October 4 - 8, 2021)
Emergency Nurses Week - (October 10 - 16, 2021)
Veteran's Day - (November 11th, 2021)
Thanksgiving - (November 25th, 2021)
Christmas/Holiday - (December 25th, 2021)
Editor's Note: This blog was originally published August 2020 and has been recently updated.