Improving Your Traditional Years of Service Program

R Scott Russell, CRP, CEP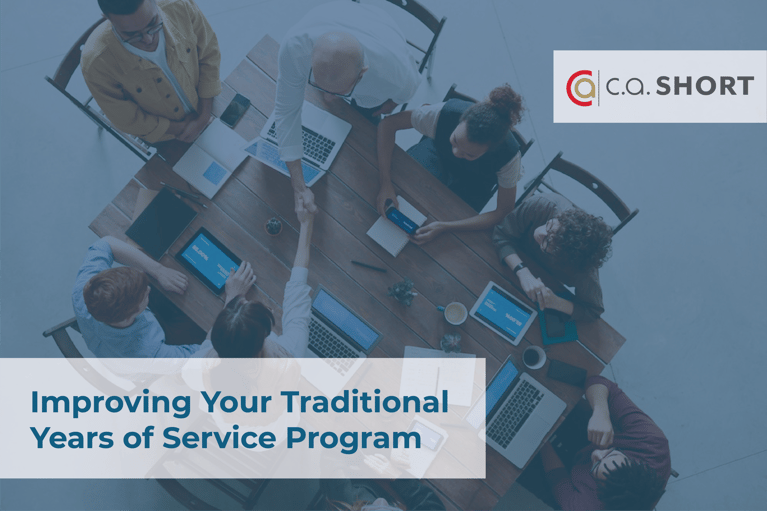 Service award programs are meant to celebrate success, relationships, and promote recognition. However, some programs lack excitement and others may not be loved by the ones that participate in them. If your current years of service program is not engaging your employees, it's time for a program upgrade. Discover how you can improve your years of service program from the traditional off the rack approach.
What are Years of Service Awards?
Years of service is commonly described as the working experience within an employee's profession, however years of service programs should look beyond tenure alone. Instead of just promoting an employee anniversary with an obligatory gift, years of service programs and awards aim to appreciate employees for their talent, their value, and their accomplishments and successes throughout their career.
Benefits of a Years of Service Program
Years of service programs are essential for attracting and retaining employees that make a difference. Employees no longer just want good pay and benefits, they also want to be treated fairly and feel they are making a substantial contribution to the organization. Forty percent of employed Americans say they'd put more energy into their work if they were recognized more often. By utilizing our People Are Everything™ platform, you can combine years of service and workplace recognition to create a well-rounded engagement program. Employee engagement programs can help boost productivity and improve your organization's performance.
C.A. Short Company's People Are Everything™ PLatform
Our People Are Everything™ platform helps businesses easily recognize their employees, while leveraging peer to peer and manager recognition, communication, and training tools. You can utilize this program within your existing YOS budget, while providing employees with unique and exciting rewards such as experiences, trips, tech gear, and more.
People Are Everything™ provides greater results in core performance measurements such as customer ratings, profitability, turnover, safety incidents, theft avoidance, absenteeism, and quality. You can easily promote communication between employees and leaders, while accentuating your mission, vision, and value. The platform also captures data on topics and concerns most relevant to your employees, providing a daily live pulse on your staff and their engagement with your culture.
Key Features of PAE
Our platform utilizes key recognition tools to engage employees and boost participation. Features like our company "rec room" encourage peer to peer recognition and open discussions on organizational status and updates. Reporting features give real trackable insights as well ensuring budgets are never exceeded. Incorporating our software into your years of service program can help you:
Simplify Recognition for Managers
Leave Employees Feeling More Connected to Their Organization
Build a Powerful Workplace Culture To Set You Apart
Gain All-In, Connected Employees
According to a study conducted by ADP Research, 84% of employees are not fully engaged at work. By upgrading your years of service program and focusing on improving overall employee engagement, you can inspire employee growth, retain valuable employees, and build a supportive work culture. To learn more about our PAE platform, schedule a demo! Learn how we can help you grow your employee engagement today!