Employee Engagement Decreases Nursing Home Turnover, Improves Healthcare Quality
David E Vogelgesang | Regional Manager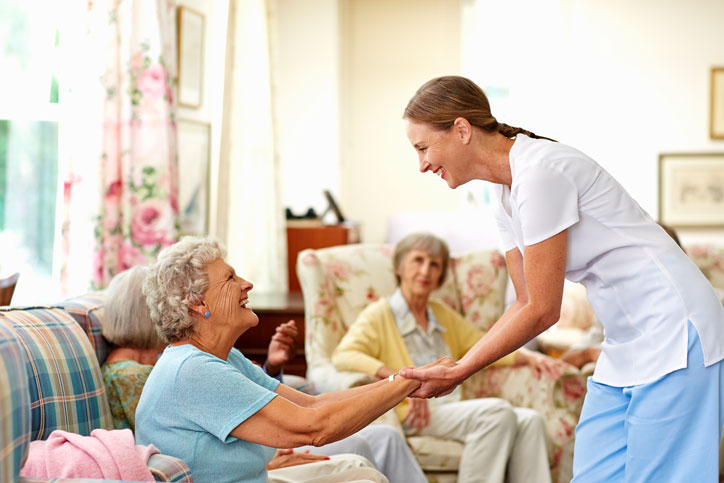 Nearly 1.5 million. That's the number of Americans who currently live in nursing homes and long-term care facilities across the nation. People who, in many cases, depend almost entirely on their caregivers – men and women who have dedicated their lives to helping others. Rarely is this an easy job.
Providing long-term care to the elderly is as challenging as it is rewarding, especially when it comes to employee turnover and patient care. Let's examine these two key areas, and take a closer look at how each can be improved.
Reducing skilled worker turnover rates through employee engagement
While employee turnover rates in the healthcare industry are higher than average, those in the long-term care sector are astonishing. Dr. Bianca Frogner and Dr. Joann Spetz, of the University of California San Francisco, found that the median turnover rate for skilled workers at nursing home providers is 44%, and the median CNA (certified nursing assistant) turnover exceeds 50%.
While those numbers may seem staggering, they're actually conservative estimates. Other academic and professional studies place turnover rates much higher – approaching, and sometimes exceeding, 90%.
These numbers can lead to major problems for long-term care facilities, impacting both finances and patient care. For starters, nursing turnover alone can account for five percent of a provider's annual budget. Further, high levels of turnover can quickly lead to decreased levels of patient care and an increase in medical errors.
The good news is this doesn't have to be the case.
Employee engagement and recognition, when effectively implemented, can significantly improve retention rates. This effect isn't limited to the healthcare sector either. When companies make employee engagement a top priority, they can experience a 24% – 59% decrease in turnover. Additionally, long-term care providers can expect a 42% dip in absenteeism.
Improving healthcare quality via employee engagement
Another major obstacle within the long-term care industry is determining how to improve the overall quality of healthcare. This is especially challenging for long-term care providers, whose patients are far more likely to suffer from serious illnesses and increased fall risks. As a result, providers must pay even greater attention to improving patient safety.
To do this effectively, healthcare organizations are increasingly turning to employee engagement and recognition strategies. What happens when they use them?
On average, highly-engaged organizations experience 58% fewer patient safety incidents and around 70% fewer employee incidents than institutes with low levels of engagement. And that's not all. Medical errors – the number three leading cause of death in the U.S. – can be reduced by as much as 50%. Perhaps most importantly, overall healthcare quality can skyrocket by as much as 95%.
How to improve employee retention at your company
If your long-term care organization would like to reduce turnover, improve patient care, and save even more lives, creating a Culture of Engagement at your company is a critical step. To learn how you can make this a reality at your facility, read our complimentary white paper, 5 Tips to Engage Your Healthcare Team. If you'd like to understand more fully the role employee engagement plays in the healthcare industry, view our SlideShare, 27 Staggering Stats About Engagement in Healthcare. It's loaded with the most up-to-date statistics you can use when mapping out your engagement strategy.
And if you're looking to accelerate your engagement and recognition strategies, or have specific questions we can help answer — request a no-obligation consultation anytime. We're here to help!
C.A. Short Company partners with companies to manage, drive and facilitate increased employee engagement to increase financial performance, productivity, quality, and core performance outcomes. Our process and research-based platform enables executives and managers to engage their teams to increase the bottom line, motivate staff, and incentivize positive behavior. To Request a Complimentary Consultation, click here.