Ten Ways to Engage Your Truckers During National Truck Driver Week

Jeff Ross, CPA, CRP, CSM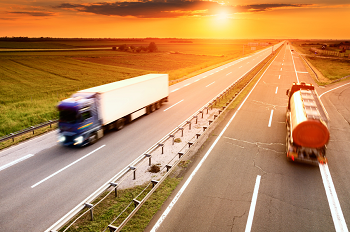 They sacrifice their time, their social life, and in many cases, their bodies, all so we can get the products and supplies we need to live our lives. Each year, 3.5 million of these employees transport over 10 billion pounds of freight, and without them, our day-to-day lives wouldn't resemble anything like they do now. That's right, we're talking about the unsung heroes -- truck drivers! This is why it's so critical your trucking company makes the most of this year's National Truck Driver Appreciation Week (September 10 – September 16). And, the best way you can do this is to start creating a Culture of Engagement and Recognition at your company.
Although employee engagement and recognition is a continual process, National Truck Driver Appreciation Week provides a great opportunity to let your truckers know you care, while also laying the groundwork for a comprehensive employee engagement and recognition strategy. To help you accomplish this, we've outlined ten key ways you can start improving employee engagement levels at your organization today!
Ten Ways to Engage Your Truckers
Bring Drivers into the Fold
Before you make any company-wide changes that could affect your truck drivers, bring them into the fold. Discuss what's occurring, and seek their feedback. Chances are, they'll provide a unique perspective and can help improve the process. Even if you disagree with their comments/suggestions, it's important they know their opinions have value and they feel part of the team.
Be Honest During the Hiring Process
When you're hiring a new driver, make sure you are 100% honest and clearly outline what is expected of them. If you know a driver will likely be locked into a difficult route or will be working undesirable hours, let them know. Some trucking companies try to sugarcoat their requirements and expectations in the beginning, and this only leads to frustration and increased turnover down the road.
Recognize and Reward Truckers' Families
Truckers aren't the only ones making sacrifices for your company. Chances are your truckers are away from their spouses and family for long periods of a time, all so your company can meet its goals. They deserve to be rewarded too. You can keep it simple, like theme park passes for the family or movie tickets for the weekend.
Offer Ongoing Education and Training
Driving trucks is a dangerous job. Help create a safer working environment for your drivers by offering ongoing education and training. Safety pamphlets and training videos don't cut it. If you want to create the safest work environment possible, you need to continually train your team.
Promote Driver Wellness
Drivers spend most of their days sitting down, and that can pose some serious health problems. Reward your employees for making healthy decisions and offer a wellness program at your company. Take it a step further, and offer gym memberships.
Offer Advancement Opportunities
Let drivers know your company values hard work, determination, and good decision making. Seniority, meeting and exceeding goals, and consistently doing a great job should be rewarded. Just remember to be honest! Don't offer something you know you can't deliver.
Establish a Mentoring Program
Work with your experienced and high-performing truck drivers to develop a comprehensive mentor program. Not only will this help engage new employees and show you care, but it's also proven to reduce turnover rates.
Address & Solve Problems Quickly
When a problem is brought to your attention, it's critical you follow up quickly. Let your drivers know you've heard their concerns and you're going to take action. Keep in mind, if one driver is experiencing an issue, chances are others are facing similar obstacles.
Reward Referrals
When an employee thinks enough of your company to make a successful referral, you should reward them! Just make sure to structure the program appropriately to ensure the referral sticks around!
Offer an OSHA™- Compliant Incentive Program
One of the best ways to engage your employees is to recognize and reward their hard efforts by offering a points-based incentive program. Just make sure you select the correct program. Many plans on the market actually encourage and reward risky behavior. This is why C.A. Short Company is proud to offer an employee recognition and engagement system that is 100% OHSA™-compliant. Your people are too valuable to offer anything less!
If you would like to create the safest possible work environment for your drivers, while increasing productivity and profits along the way, then let's chat. C.A. Short Company has spent the last 80 years in the employment engagement and recognition industry, and we'd love to show you what we can do for your company!