Transportation: An Industry with Unique Employee Recognition Needs

Jeff Ross, CPA, CRP, CSM
Editor's Note: This blog post was originally published in December 2014. Because we have recently published new blog posts regarding the Transportation industry, we feel it is advantageous to republish this blog post for easy accessibility and reference.
The Current State of the Transportation Industry
The transportation industry has been hit hard over the past few years and still continues to climb from the recession. During the recession, issues such as retaining drivers, driver safety, and fuel prices were forefront issues of every transportation company in America.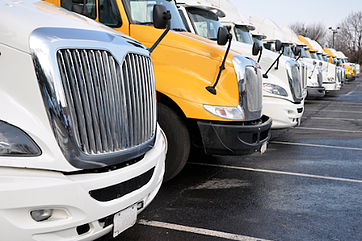 Now that the economy has begun to turnaround, and the industry realizes that there is potential for an epic transportation comeback, logistics companies are having to get creative in how they recruit, retain, train, and compensate drivers that no longer want to be over the road.
The business of delivering goods is incredibly fragmented among big and small trucking companies, shippers, and receivers. The supply chain has to work in tandem to yield glitch-free deliveries. Recognizing truck drivers for working in cohesion with all the other pieces and parts of the supply chain will ultimately drive sales and profits.
Being Proactive with Truck Driver Recognition
At C.A. Short Company, we work with many transportation and logistics companies that recognize drivers for having a safe driving record, including standards, such as:
Free of OSHA recordable injuries & loss time injuries
Complete logs & customer tickets
Roadside inspections – Zero defects on roadside inspections conducted by law enforcement
Free of DOT preventable accidents or traffic violations
But the most successful truck driver recognition programs that we administer are based not only on safe behavior but on effective behavior and culture change to increase truck driver engagement. While driver safety is always in the pole position, transportation companies that use proactive measurements tend to have the best outcomes. Examples we have seen include:
Mentoring Programs - Voluntary mentoring of new and incoming drivers
Participating in training, both in-person and online
Maintaining truck appearance & pre and post-trip inspections
Defensive driving courses
Additionally, a points-based employee recognition platform can incorporate not only safety agendas, but all types of programs such as years of service, attendance, and wellness. The opportunity to recognize your drivers is quite endless. Stand-out from the rest of the trucking companies out there and offer your potential drivers a program that is sure to increase employee engagement and your bottom-line.
At C.A. Short Company, we are your partner for increased employee engagement resulting in increased performance outcomes to grow your bottom line. Our process and research-based platform help you engage your team in order to increase your bottom line, motivate your staff to the benefit of the entire organization, and reward your people for the positive changes they make. To request a Complimentary Consultation, please click here.