8 Ways to Recognize & Engage Employees Who are on the Road

Scott Hammer, CRP
This blog post is the 2nd in a series of five blog posts about creating driver engagement.
Driving and achieving employee engagement with employees that predominately work outside of the office or over the road is a tough task to accomplish, but is very feasible to attain. Specifically regarding employee engagement in the transportation industry, it just takes a little more effort.
Communication is the Key to Driver Engagement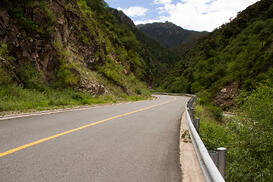 Start by making a conscious effort to touch base with and engage employees, at least once per week, to see how their week is going and if there is anything you can do serve their overall work performance. When your employees see that communication efforts are being made and they're being engaged in a meaningful conversation, they will feel as though their best interests, contributions, and work performance matter to senior management and the company as a whole.
Engaging Long Distance Employees
Creating an opening for consistent and meaningful communication with drivers is just the start of creating employee engagement with your employees. Here are eight ways to show recognition to employees that are on the road:
Ask a strong or top performer to be a mentor to fellow drivers. Further, ask the newly appointed mentor to also maintain strong lines of communication with drivers.
Send an email or letter of appreciation to an employee for their efforts and work outputs. Ensure that senior management is copied into communications, too.
Take your top performer to lunch and verbally thank them for their efforts and contributions to your company.
On your company website or Intranet, create a visible page for "Special Recognition." Update and populate this section as often as possible with the recognized employees picture and applaud their recognized action.

In your company newsletter, create a section that is dedicated to recognizing employees that have gone above and beyond. Recognition is contagious! This will inspire other employees to stretch their efforts as well.
Send an eCard to an employee you wish to recognize. Managers can schedule eCards ahead of time for birthdays and anniversaries, but you may also consider creating an eCard based on performance or any facet of engagement that you wish to recognize.
Create a "Magic Moment" during a staff meeting or company call to acknowledge an employee's contribution or performance. Further, ensure that a manager or a member of senior management is also present.
Reward and recognize employees with Instant Award Cards for their efforts or work performance.
Don't feel overwhelmed if you're working to implement a new pattern or a system to engage and recognize drivers. Start by opening the lines of communication and then implement one new tactic per week and see how your organization reaps the benefits of positive reinforcement for your employees. It far more cost efficient and effective to keep an employee engaged than it is to constantly seek new employees to fill vacated positions.
At C. A. Short Company, we are your partner for increased employee engagement resulting in increased performance outcomes to grow your bottom line. Our process and research-based platform helps you engage your team in order to increase your bottom line, motivate your staff to the benefit of the entire organization, and reward your people for the positive changes they make. To request a Complimentary Consultation, please click here.