10 Employee Engagement Statistics Affecting Your Business

R Scott Russell, CRP, CEP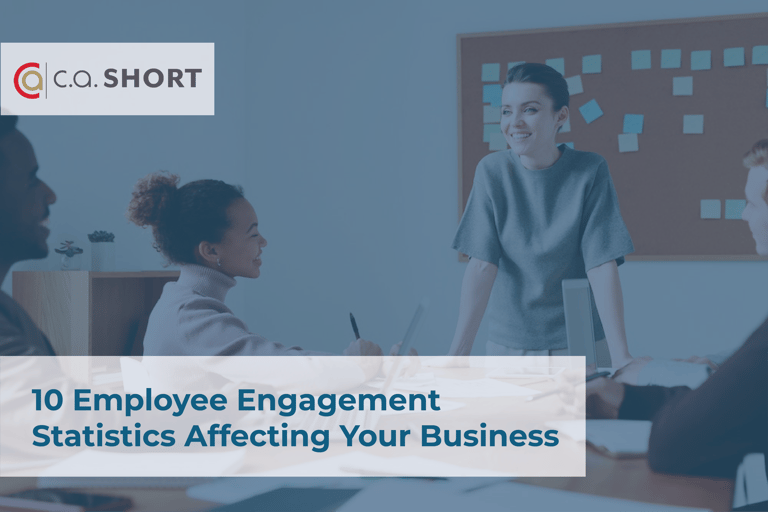 Even though your employees may be content at work, this does not mean that they are necessarily engaged. Managers often mistake compliance with engagement, when in fact employee engagement defines enthusiasm and dedication to their job. By ensuring your employees are engaged you can aim to attract and retain better employees, as well as stimulating a positive work environment. Today we're going to be discussing employee engagement statistics and what they mean for your business.
An employee who feels engaged and inspired is 125% more productive than the satisfied staffer. (Bain & Company)
Employee engagement is the level of enthusiasm and dedication an employee feels toward his or her job. When employees are engaged, their job means more to them than just a paycheck. They are more eager to complete new tasks, as well as more passionate about their work. By incorporating employee engagement activities, you can increase productivity within your workforce and ensure all of your employees are working towards achieving company goals.
The average company in the United States spends about $4,000 to hire a new employee, taking up to 52 days to fill a position. (Glassdoor)
From your internal HR team, to external recruiting costs such as marketing, job boards, career events, and background checks, acquiring a new employee can cost thousands of dollars before they even walk in the door. When you factor in on-boarding, an average company loses anywhere between 1% and 2.5% of their total revenue on the time it takes to bring a new hire up to speed. What's worse is that even though the employee was hired doesn't mean they will be a good fit. You may end up repeating this process multiple times before you find your ideal employee. By improving employee engagement you can dedicate your time and resources into growing your current employees, while reducing turnover rate.
22% of workers said they'd be happy working at their job for more than 10 years. (TSheets)
It can be hard enough attracting highly qualified candidates that fit in with your culture. Once you've hired a strong candidate you often expect them to stick around for the long haul, however this is often not the case. With only 22% of workers happy to work at their job for more than 10 years, retaining skilled and dedicated employees should be a top priority for your business. A variety of factors can affect the longevity of an employee's career spent with your business. These factors include promotions, company vision, and personal growth, which brings us to our next employee engagement statistic.
82.39% of employees say a lack of progression would influence the decision to leave their jobs. (CareerAddict.com)
Often a huge factor in employee retention, job progression or promotions can play a huge part in maintaining employee satisfaction. When dedicating their time and effort to a business, employees often want to ensure that their career will continue to grow and not stand still. Not only is career growth important, but having the correct tools to elevate their work experience and expand their knowledge can play a role in helping an employee achieve their personal goals. By providing options for continued learning, abilities to attend conferences, or online skills classes, you can give your employees more tools for success.
On average, lonely workers say they think about quitting their job more than twice as often as non-lonely workers. (Cigna)
Aside from company growth, workplace happiness can also be attributed to the relationships around employees. Employees who have good working relationships have an increased sense of teamwork and feel more connected to the company. Employees who lack relationships with coworkers or their employers could feel distant from the team and more likely to look for other opportunities with different companies. By encouraging team building activities, you can help foster employee relationships and improve overall morale.
24% of hiring managers lack access to behavioral and cognitive candidate data. (The Predictive Index)
When searching to fill an open position you'll want to ensure that your employees will be the best fit and are less likely to leave within a short period of time. Companies are turning towards behavioral assessments in the hiring process to easily identify candidates long term goals and workplace compatibility. Behavioral assessments can help you better understand your candidates and ensure you are hiring the best potential candidates possible.
Three in ten employees say their manager doesn't encourage a culture of open and transparent communication. (SHRM)
Overall, employees want to feel like a valued member of the team and ensure their voice is heard. Employee voice is extremely important because it allows employees to easily communicate suggestions and ideas, and bring up any potential issues within the organization. Utilizing tools like an employee engagement survey can provide you with key data to understand what motivates each of your employees and connect with them in a way that matches their natural behavioral drives and needs. These surveys can showcase how much you value their opinions and your willingness to improve the organization.
22% of companies know what is driving employee disengagement. (The Predictive Index)
If your company is one of the 78% that doesn't know what is affecting your employee engagement, implementing a survey could help you develop a clear and concise plan. Employee engagement surveys ask a variety of questions related to leadership, development, and company vision. These questions are asked to gauge your employees' feelings about their current work situation, management, or work culture. The data can help you determine which areas of your organization need improvement and help you work towards empowered employees. Your managers can then better connect, inspire, and retain their most talented workers.
Organizations with high employee engagement outperform those with low employee engagement by 202%. (Gallup)
Improving employee engagement may not seem like a high-priority, however it can drastically affect your ROI. When employees are extremely engaged there is often a 125% return. They are hardworking, passionate, and willing to go the extra mile to get the job done. By implementing employee engagement activities or an engagement software, you can elevate your engagement strategy by going the extra mile in terms of gifts, experiences, or employee recognition. Our People Are Everything software can help you easily recognize employees and showcase your dedication to employee morale.
Employee engagement plays a significant role in your organization and can affect happiness and productivity levels. By being aware of the employee engagement statistics above, you can ensure your employees feel recognized and engaged. C.A. Short Company has been providing businesses with employee engagement solutions for over 80 years. We are dedicated to helping you connect with your employees and stimulate a positive work environment. For a limited time we are offering a free employee engagement survey to help you increase engagement and strengthen team bonds. Sign up today to get started!