How to Host a Socially-Distanced Employee Event in 2020

R Scott Russell, CRP, CEP
Amid the COVID-19 crisis, hosting employee events and celebrations has been difficult and uncertain. What many managers and employers are struggling to address is the need for social interaction among employees. Workforces around the world are craving face-to-face engagement, but employees also want to feel safe while participating in group events. While the task may seem unapproachable in the current health climate, it is something that needs to be a priority for businesses as we head into 2021.
As North Carolina finally reached phase three, our leadership team at C.A. Short Company decided to host a socially-distanced event for our employees. If you consider your employees to be one of your greatest assets and you are committed to strengthening your company culture despite COVID-19, C.A. Short Company can help you get back on track. We successfully hosted our annual Fall Festival with social distance and safety in mind, promoting company culture and employee engagement. We're happy to report it was a big success despite its history and past format. Read along as we discuss the details of our event and learn how you can implement some of our ideas when hosting your own event!
As a reminder, C.A. Short Company's headquarters is located in Shelby, NC where the state is currently in phase 3. Please refer to your state's guidelines as a reference point when planning your own event!
Planning and Preparation for a Socially-Distanced Event
With any event at C.A Short Company, months of planning and preparation is implemented in order to ensure the event is a success. This event was added to the calendar at the beginning of the year, however with new restrictions in place, our Culture Team had to reassess how we would provide a safe and engaging environment.
Socially-Distanced Tables & Chairs
In order to maintain CDC and State Guidelines, it was important to our team to take a strategic approach that would both adhere to state guidelines and deliver a fun and engaging event. The event was hosted in our warehouse where we were able to distance activities and seating. Tables and chairs were spaced six feet apart, with only three chairs at each table to limit close interactions with multiple people.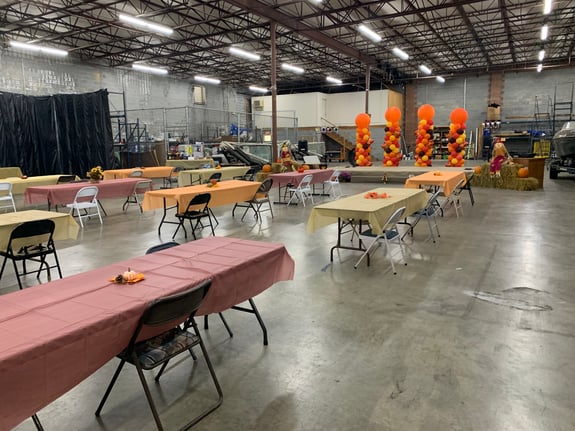 We also required all participants to wear masks, which we provided as gifts!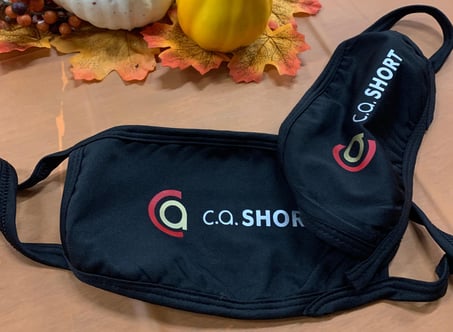 Individual Lunch Boxes
For lunch we used a vendor that could do individual meal preparations, as well as individually packaged desserts. This limited the amount of contact team members had with the food as well as making food service quick and easy.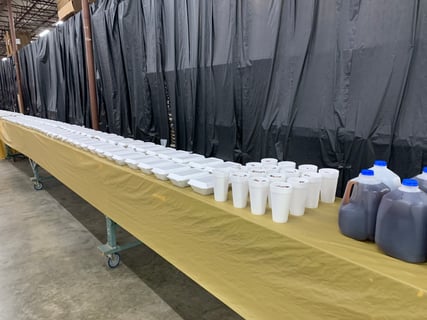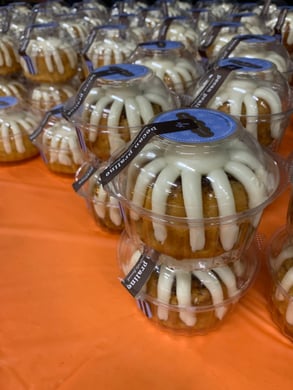 Socially-Distanced Games and Activities
No event would be complete without activities, games, and prizes! When planning the activities for our socially-distanced Fall Festival we incorporated a mix of in-person and virtual activities. Each provided opportunities to win prizes or points via our People Are Everything™ Platform (PAE).
Virtual Employee Games
Our virtual employee activities included:
Virtual Bingo: Employees were able to play at their desks, receiving the numbers through our PAE platform and via email. Prizes included the always popular PAE points, which can be exchanged for amazing items and experiences.
Guess the Candy Jar: Employees guessed the amount of candy within the jar throughout the week before the festival with the winner being announced the day of. The prize? Why the huge jar of candy, filled with 605 pieces of sweets, of course!
Cake Walk: Who can resist the chance to win a selection of a table full of amazing desserts and treats? Cake Walks have long been a fun tradition of carnivals, celebrations, and festivals and proved to be a perfect activity for a socially-distanced event. Cake Walks were held multiple times during the day, giving employees a chance to win during their time at the event.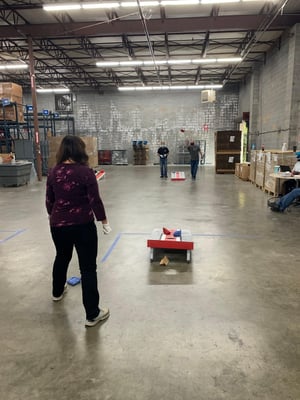 Socially-Distanced Cornhole
Every year during our Fall Festival, our company hosts a cornhole tournament. We still wanted to incorporate this activity, while adding additional regulations and procedures to ensure it was safe and secure.
We did this by taping off where participants should be when playing their round, as well as limited the amount of people that were in the building while the rounds were being played. This resulted in a maximum of 12 people in the room while each round was going on. This included eight players, and two to four people for keeping score and setting up each round.
Masks and gloves were worn during each round, with all equipment, playing surfaces, and bean bags disinfected between games.
Let's Make A Deal
Another game played during our Fall Festival was Let's Make a Deal - C.A. Short style!
During the week prior to the event, we randomly selected 12 employees to participate in our company's version of Let's Make a Deal. The 12 employees were then separated into three time slots, in order to limit the number of people in the building.
Employees were asked to pack a bag of frequently used items which would then be asked for by the host, similar to the original show. Employees were also asked to dress up as characters which included Bob Ross, Carole Baskin, and Madea, just to name a few of the creative costumes our team members came up with! This added an additional fun element to the game engaging more people than just the players!
Our game also included company trivia, as well as actual prizes behind curtains, adding excitement and flair!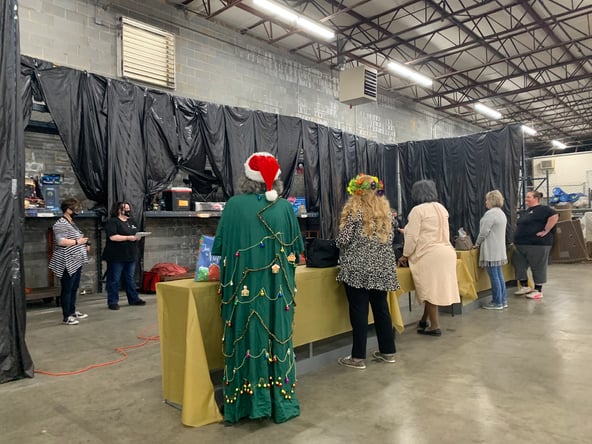 Results of Our Socially-Distanced Event
Because of COVID-19, we were not able to host as many events that we normally would within the year, however this made our rewards and prizes bigger and better since budgets were already accounted for the year. Prizes included home entertainment sets, toolboxes, Maui Jim sunglasses, jewelry, home goods, and more!
When compared to previous events, we normally would have hosted our event off-site in a gathering center, however with COVID-19, we moved the event into our personal warehouse where we could ensure safety and social distancing guidelines. This change did not affect our overall outcome of a rewarding experience, with many employees saying they enjoyed it more and it provided more unity between different departments.
Culture Team member and Shipping Supervisor, Lynn Smith also said she believed that "People were more involved than normal and it made it more fun for everybody even with everything going on."
Overall we were able to accomplish our goal of engaging our employees and rewarding them for their hard work during a pandemic! We are thankful for our multiple teams that made this event possible and pivoting to encourage safety and reduce the possibility of exposure.
We hope that you are able to utilize some of our ideas to host your own socially-distanced event and promote employee engagement and build company culture!
Check out some additional photos from the event below!