The Key to Having Success with Employee Engagement

Jeff Ross, CPA, CRP, CSM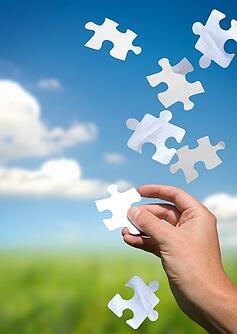 Our blog series on the 7 NEW Rules of Employee Engagement wrapped up last week, and we hope that you are inspired to implement your learned knowledge. We shared abundant information and insight regarding what is needed to develop a strategic and comprehensive employee engagement program and a proper employee engagement structure. Now that we have set-up the framework, the job of executing those rules comes into play.

Let's begin!
Management Buy-In: Your Key Puzzle Piece for Success
The single most important piece of the employee engagement puzzle is management buy-in. I can't tell you how many employee engagement programs we have seen fail because no quantifiable plan was in place that could prove the effectiveness of the initiative as a whole. We've discussed many times the 2013 Gallup Poll that states that companies with a high level of employee engagement exhibit:
21% higher productivity

22% higher profitability

41% higher quality

48% fewer safety accidents

37% reduced absenteeism
A Measurable Employee Engagement Action Plan
So, why have so many C-Level executives not gotten on board the employee engagement train? It's simple. It has not been fully communicated. By laying out a measurable action plan with clear and defined benchmarks, senior management will undoubtedly see the power of employee engagement and the impact on the bottom-line.
First and foremost, there are some questions that must be objectively answered:
Who will employee engagement affect?

What will drive and/or hinder employee engagement within your organization?

Why does employee engagement matter to your organization?

How will employee engagement impact and affect the bottom-line?
The answers to these questions will help senior management see the bigger picture. Employee engagement is not only important to employees, but to the cultural, financial, and operational well-being of an entire organization.
At C.A. Short Company, we are your partner for increased employee engagement resulting in increased performance outcomes to grow your bottom line. Our process and research-based platform help you engage your team in order to increase your bottom line, motivate your staff to the benefit of the entire organization, and reward your people for the positive changes they make. To request a Complimentary Consultation, please click here.