Reform Inefficiencies through Employee Engagement.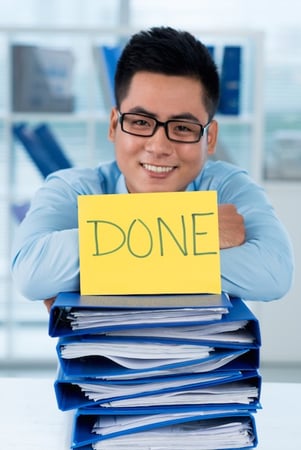 Actively disengaged employees cost the economy over $350 billion a year in lost productivity. In order to prevent employee burnout, low morale, and disengagement, organizations are being forced to re-evaluate over-complicated workflows, approval processes, and systems.
By engaging employees to be part of the streamlining process, organizations are able to gain valuable insights and ideas from those that the processes directly effect on a daily basis. When employees are able to clearly see how their role in the organization fits into the overall strategy, engagement and productivity levels increase, which makes their work better and more efficient.
Organizations that integrate engagement into their organizational strategies are able to clearly identify top performers, as well as those that have great potential to improve. By doing so, companies are able to create a purpose-driven work environment that inspires high-performance teams. Those high-performance teams, in turn, can deliver amazing results for their companies.
Each year, Gallup publishes an annual report, State of the American Workforce, where they examine the effects of employee engagement. In terms of productivity, the 2017 edition found that companies in the top quartile experience, on average, 17% higher productivity than those with low engagement.
That's not the only benefit of engaging your team. Some others include:
28% Less Shrinkage
40% Fewer Quality Incidents (Defects)
20% Hirer Sales
21% Higher Profitability
and the list goes on and on.
For the most up-to-date information on how employee engagement can lead to higher levels of productivity, be sure to follow our weekly blog. To learn more about getting started with employee engagement at your company, check out our complimentary resource, 7 NEW Rules of Employee Engagement. Not only does the wall chart contain helpful information, it also provides a great starting place for initiating conversations about the importance of employee engagement.
Ready to take action now? If you're looking to jumpstart employee engagement at your company, or you just want to say hi, reach out. We'd love to hear from you and show you how C.A. Short Company can help your company create a meaningful Culture of Engagement.
Additional Resources to Increase Employee Productivity