How to Create Healthcare Years of Service Awards That Work
David E Vogelgesang | Regional Manager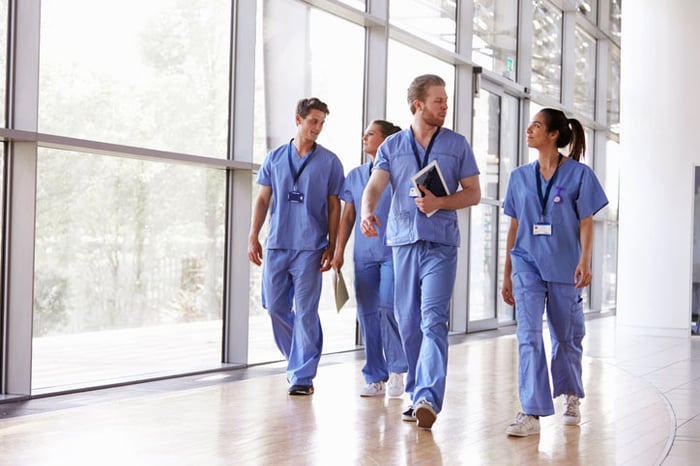 Their time. Their energy. Their personal lives. Every day healthcare workers make major sacrifices just so they can help strangers in need.
Their hard work and commitment shouldn't go unrewarded. Years of service awards provide a unique opportunity to thank those very people who make the success of your healthcare organization possible. And they're not the only ones who benefit.
Years of service awards also deliver significant results for the companies who offer them. When compared to organizations that don't have a milestone program in place, businesses that do experience:
Improved retention
Increased employee loyalty
Improved employee engagement
Decreased turnover
Improved employee satisfaction
Reduced absenteeism
Years of service awards, when executed properly, can be a win-win situation for your employees and your organization. But, how do you make sure they're a big hit? We've got you covered – here are five tips you can use to create a healthcare years of service program that works!
1. Offer years of service awards for shorter periods of time
Does your company already offer years of service awards? That's great, but if the earliest award you offer starts at five years, you could have a major problem.
This isn't your grandpa's workforce. Millennials will soon make up the vast majority of the job pool, and they operate much differently than previous generations. There's a reason they're known as the "job-hopping" generation, and it could have something to do with the fact nearly 60 percent of all millennials report being open to a new job right now.
Years of service awards don't work if no one stays long enough to collect one, so traditional five-year awards might not make sense. Consider offering awards at an early anniversary, like the one-year mark. Sure, it might not be conventional, but it will likely help you hang on to great employees you might've lost
For more tips on how to structure your service awards program, you can review our complimentary checklist, Designing an Employee Service Award Program.
2. Customize the presentation to each recipient
Healthcare workers have unique experiences that set them apart from everyone else. Consider acknowledging some of these during the presentation of their award. Recall one of the times they stepped up at a critical moment and went above and beyond to accomplish the impossible for a co-worker or a patient or their family.
You can further customize the award presentation by adding in statistics relevant to your hospital or provider and your worker's specific role. For example, note how many patients were saved, diseases were diagnosed, or any other meaningful metric, since the time this employee started at your organization.
Even if the numbers are only estimates, they help paint a clear picture of how important everyone is to the team and the difference one person can make.
3. Make the presentation timely
This one should really go without saying, but it's too important to leave off our list. When presenting your employees with years of service awards, the employee should be recognized as close to his or her work anniversary as possible.
You wouldn't send a friend a birthday card six months after the date, would you? Work anniversaries are just as important and should be treated as such. If you absolutely can't recognize your employee on or near the anniversary of their hire, take the time to acknowledge the day and let them know a more formal presentation is planned for later.
4. Give employees what they really want
While a certificate or plaque should be presented to an employee to commemorate their work anniversary, these alone aren't enough to leave the lasting impression your company wants.
To make the most significant impact, give your employees exactly what they want by letting them choose their gift. C.A. Short Company accomplishes this by awarding employees a predetermined amount of points they can exchange for the award of their choice. Now, everytime your team member looks at or uses the item, they'll be reminded of your company.
5. Combine your years of service awards program with year-round recognition
If your healthcare organization is looking to make the biggest impact in your employees' lives as well as the company's bottom line, consider making your years of service awards a part of a total recognition strategy. Recognition needs to be a year-round effort and not reserved for once or twice-a-year displays of gratitude for it to have significant, long-lasting results that can make a positive difference in your company's culture and finances.
If you'd like to learn more about how your company can engage your employees every day of the year, download our complimentary ebook, "35 Ways to Influence Company Culture and Increase Your Bottom Line." It's loaded with actionable tips you can put to work today.
Got more questions or need help with something specific? It's why we're here! Just give us a call or email.
C.A. Short Company partners with companies to manage, drive and facilitate increased employee engagement to increase financial performance, productivity, quality, and core performance outcomes. Our process and research-based platform enables executives and managers to engage their teams to increase the bottom line, motivate staff, and incentivize positive behavior. To Request a Complimentary Consultation, click here.