4 Ideas of How to Engage Creative Employees

Jeff Ross, CPA, CRP, CSM
The challenge, yet the beauty, of a workforce that is chock full of diverse personalities is finding a way to equally engage employees, no matter their core motivation. I, myself, am a creative, and engaging a creative employee, like me, is different than team members in other departments within C.A. Short Company. I enjoy unleashing creativity to solve problems, I thrive on executing out of the box, yet successful marketing campaigns, and I enjoy sharing my passion and enthusiasm to engage my team.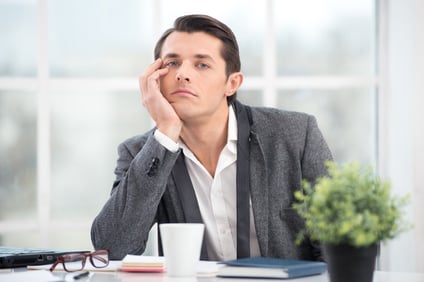 My go-to brain break blog is Hello Giggles, which is targeted to women and offers an uplifting and creative view to navigating life and capitalizing on it's opportunities. I can relate to the pop culture references and real life voice from a Hollywood point of view.

In the blog post, How to Deal When You're a Creative Spirit Working in a Corporate World, there are tips for dealing with the blah day-to-day of the corporate environment when you are a creative person. This made me think that there needs to be another point of view. It's not fair for all the work to be on the employee. There is some burden of engagement on the part of the company itself, too.
How to Engage Creative Employees
Here are some basic tips from our brand new Wall Chart, 35 Ways to Influence Corporate Culture and Increase Bottom Line, that can help you to motivate your creative employees:
Help Your Employees LOVE Their Job Again
Constant criticism and never being "good enough" can create a cold environment for your employees. Some ways to bring back that loving feeling include trusting your team to do their job, critique with respect, acknowledging your employees' time and effort, and giving them wings to grow.
Your employees should know that you are on their side, allowing them to feel capable of stepping outside of the box and encouraging them to add their opinions without the fear of harsh criticism.
Make Work Fun Again
Your employees should enjoy their job, and I guarantee that they want to talk about it with excitement and feel like a rock star. Work can be fun and when it is, your employees become engaged. Finding moments to have fun and incorporate gamification can create an atmosphere conducive to team building and getting the job done well!
Provide Spaces That Encourage Creativity
Paint the walls of your conference room with Dry Erase paint. And while you're at it, create tic-tac-toe boards or hangman games on the walls of your Marketing room. Provide your employees with a work environment that allows them to recharge and energize their minds while having a little fun along the way.
Remember That Your Employees Have Feelings
Your employees, no matter how tough they may seem, have feelings. They have good days and they have bad days. Be approachable and realize that your employees are individuals; living, breathing, feeling human beings. Make encouragement a regular part of your vocabulary by showing your employees that you appreciate them just as much as they appreciate you!
How I Engage Creative Employees
An exercise that I do with our creative staff may also help you in your quest to engage creative personalities. When we have a new program or marketing campaign that needs a name or concept, I will email everyone on my Marketing team and begin a list of ideas. We will each add our own idea to the list and then we talk about them and pick our favorite.
This does three things:
1. Breaks the monotony of Board Room planning
2. Gives shy staff the opportunity to speak up
3. Helps to indentify hidden skills or creativity within your team
The results have been amazing, including that we've been able to plan projects faster and there's a sense of ownership to Marketing-based concepts. Hey wait - that's one of the 35 Ways to Influence Corporate Culture and Increase Bottom Line, too!
After all my hinting, I invite you to download our brand new Wall Chart today! For your convenience, our Wall Chart is available in 3 sizes and is print-ready.