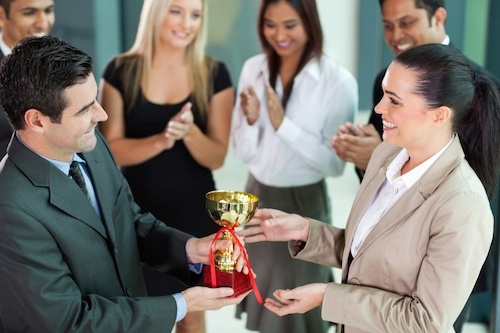 For more than 80 years, C.A. Short Company has been an industry leader in the employee engagement and recognition industry. And over that time, we've learned that one of the most effective means of creating an engaged and safe workplace is through offering a points-based incentive program to your employees. As it turns out, we aren't alone in our thinking.
Study after study has concluded that rewarding and recognizing employee behavior that's consistent with a company's core values is the best way to achieve desired results. But, many businesses still have their reservations. To see why this may be the case, let's take a look at the findings of a new report.
About the Study
The survey was conducted by IRF, the Incentive Research Foundation, an organization that sponsors research centered around the incentive industry. In this particular study, 229 respondents gave their feedback regarding incentive and reward programs planned for the upcoming year. Of the 229 respondents, 15% were corporate end users (HR, Sales, Buyers, etc.), 30% were suppliers (DMC, Merch, etc.), and 55% were third party (Incentive Companies, Consultants, etc.).
The Results
71%

of corporate respondents use points-based rewards programs

An 8% increase in optimism from Fall 2016 suggests incentive merchandise and gift card programs will continue to enjoy positive benefits from the economy

32% of all respondents

agree that the number of participants earning rewards will increase in the coming year

17% of corporations feel merchandise rewards will increase in 2018

Companies planning to spend between $251 and $500 per person has risen from 19% to 24%, and companies that budgeted to spend $101 - $200 per person nearly doubled

54% of respondents say government regulations are making it more difficult to design reward and recognition programs
Choosing the RIGHT Rewards and Recognition Program
Government regulation isn't the only reason many companies refrain from offering reward and recognition programs to their employees. A major contributing factor is that many engagement programs on the market today provide a one-size-fits-all "solution." But, at C.A. Short Company, we do things differently.
We understand that every business has different requirements, values, and goals. We realize that true inspiration can't be generated by generic gift-giving and an occasional pat on the back. And, above all else, we know that the success of your company stems from your most valuable assets -- your employees.
This is why every engagement and recognition strategy we offer is completely customized to fit the unique needs of your organization. We spend time getting to know your company, your leadership, and your employees. We also understand that there are factors outside of your control, and for many businesses, keeping up with the latest government regulations is critical to their industry. This is why every plan we offer is also 100% OSHA®-compliant.
In short, we take the guesswork out of the situation, so clients can walk away stress-free, knowing that every possible consideration has been made.
This attention to detail and our ongoing drive to engage and recognize as many employees as possible is what sets us apart from the competition, and it's why we've been an industry leader in the employee engagement and recognition industry for nearly a century. For more information about the difference C.A. Short Company can make at your organization, reach out! We'd love to show you what we can do for your company today.
C.A. Short Company partners with companies to manage, drive and facilitate increased employee engagement to increase financial performance, productivity, quality, and core performance outcomes. Our process and research-based platform enables executives and managers to engage their teams to increase the bottom line, motivate staff, and incentivize positive behavior. To Request a Complimentary Consultation, click here.