Safegagement™ Improves Safety, Productivity in the CPG Industry

Scott Hammer, CRP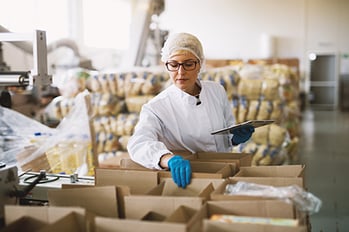 The Consumer Packaged Good (CPG) industry is responsible for many of the products we use on a daily basis – from the food we prepare for dinner to the detergent we use to clean our clothes. For those products to reach our homes, they must travel through a variety of sectors, including manufacturing, warehousing, and transportation.
While each of those sectors has their own challenges, when it comes to productivity and workplace hazards, there is one approach proven to boost efficiency and safety across the board – Safegagement™. Before we dive into the impact this makes, let's take a closer look at what it means.
What is Safegagment?
Safety + Engagement = Safegagement.
The formula for safegagement may be a simple one, but it is critical to the success of your business. Without a clear focus on safety, your employees can sustain on-the-job injuries – which lead to absenteeism, lower morale, and increased costs – or worse.
Equally important, your company must also focus on engagement. When your employees are engaged, safety incidents are reduced significantly while productivity skyrockets – and that's just the tip of the engagement iceberg. To see the full impact Safegagement has in the CPG industry, let's take a closer look at some of the challenges faced in today's market.
Reducing safety incidents across warehousing, manufacturing, and transportation
Delivering the products people need to sustain their daily lives can be – and often is – a dangerous business. Serious injuries in the warehouse industry have increased significantly in recent years, while the manufacturing industry alone sees hundreds of on-the-job fatalities annually.
And while those statistics are frightening to even the most seasoned safety manager, they pale in comparison to the threats involved in the next journey of a product's lifecycle – transportation. Each year, far too many truckers sustain injuries so severe they can no longer return to work.
That's thousands of men and women who have their livelihoods thrown into jeopardy in a split second. Workers, who were simply trying to do their job to the best of their ability, now have to face unthinkable questions. When, if ever, will I be able to return to work? How will I care for my family? How much longer can I live like this?
This is a nightmare no one wants to live through. And the good news is, there are steps your company can take to reduce the chances one of your employees will have to. By adopting a Culture of Safegagement, your company can significantly improve the safety of your workers – whether they're maintaining dangerous equipment, operating a forklift, or driving a large truck.
In addition to reducing driving distractions by as much as 25%, you can also reduce safety incidents of all types by more than 70%. When your workers are engaged, they're focused on the task at hand and are far less likely to be distracted.
Ensuring the quality of goods – especially food
Of course, it's not just about the safety of your own workers. In the CPG industry, you must also be concerned about the health of those who consume your products – especially when it comes to packaged food.
According to the Centers for Disease Control and Prevention (CDC), more than 15% of Americans get sick each year from contaminated food – resulting in over 3,000 deaths. That equals around 48 million domestically acquired foodborne illnesses, hospitalizations, and deaths.
While those numbers are certainly jarring, here's one that should make you feel better. When companies invest in Safegagement, they notice a 40% improvement in product quality. That's what happens when your employees work together to ensure each product that leaves your facility is 100% safe and defect-free.
Improving productivity across warehousing, transportation, and manufacturing
In addition to safety concerns, organizations must also overcome productivity issues that – left unchecked – can bankrupt a company. This is especially true in the CPG industry, where manufacturing and warehousing inefficiency can cost as much as 20 to 30% of a company's profit.
For companies that distribute their own products via large trucks, those numbers can be much higher. In fact, more than $14 billion is wasted each year due to idling alone. When you factor in the costs of traveling with zero freight – as is the case for 28% of trucks you see on the road – losses become so large they could bankrupt a small country.
On the other hand, when your organization commits to improving safety and employee engagement, surprising things happen. This includes 28% less shrinkage, 17% higher productivity, 20% more sales, 24% - 59% lower turnover, and – most importantly – 21% higher profitability.
What are your next steps?
Would you like free information on how your company can adopt a Culture of Safegagement? We've got what you need: our on-demand webcast, Safegagement: Creating Safe Companies That Thrive, is loaded with pragmatic information you can put to use today.
If you need additional assistance or require immediate help, contact us today! We've been in the employee engagement and recognition industry for almost a century, and we'd love to show you how you can create a safer environment while boosting profits along the way.

At C. A. Short, we are your partner for increased employee engagement resulting in increased performance outcomes to grow your bottom line. Our process and research-based platform help you engage your team in order to increase your bottom line, motivate your staff to the benefit of the entire organization, and reward your people for the positive changes they make. To request a Complimentary Consultation, please click here