The Top 10 Worst Gifts to Give Your Employees During the Holidays

R Scott Russell, CRP, CEP
Despite the temperature outside, the season of planning and preparing for employee holiday gifting has arrived! If you've been given the seemingly daunting task of buying for your organization's employees this holiday season, you're likely racking your brain, researching the do's and don't's of employee gifting, while being mindful of your overall budget.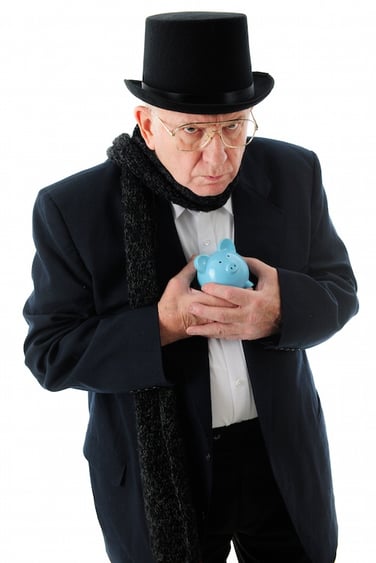 We help organizations, like yours, create seamless employee recognition and employee engagement strategies to serve the betterment of organizational goals, emphasizing the gift of choice, which provides a more meaningful and memorable experience. Over the years, we've uncovered gifting choices that are questionable, at best.
As you prepare for holiday gifting within your organization, be mindful to avoid these 10 least desired, and sometimes offensive, gifts for your employees.
10. A Jar of Nuts
If you have an employee who has a peanut allergy, their gift from your organization is essentially nil, and this gifting option can create a large-scale health scare. Be mindful to avoid gifts of food, especially those that are notorious for food allergies...unless you employ a troop of elephants. If you do employ elephants, then by all means give a jar of nuts.
9. Ham, Turkey, or Any Other Dead Animal
Years ago, meat was an acceptable gift during the Holidays, as most families ate ham or turkey for their Christmas meal. Holiday traditions are evolving, and so are your employees' travel plans and personal choices. Plus, employees' homes are no longer full of homemakers responsible for the Christmas Roast Beast. Keep it relevant, and stay out of my kitchen.
8. Homemade Crafts
Receiving cute, homemade crafts from kids is one thing - creating homemade crafts for your employees is a completely different concept. Unless your Uncle is a Rolex or Michael Kors manufacturer, stay away from the homemade gifts, and keep arts and crafts gift giving within your family and close friends.
7. Office Supplies
Buy your employees office supplies to help fulfill their job requirements, not to make them feel warm and fuzzy during the holidays. It's the role of an organization to provide office supplies for your employees' day-to-day work! Unless you want to create a fun moment of reenacting the film Office Space for the staff this year, please no office supplies. If that is your goal, give out red staplers.
6. A $25 Gift Card to an Expensive Restaurant
There is nothing worse than having to spend money to redeem a gift card, or any gift for that matter. This is the case with a small, increment gift card to an expensive restaurant. Not all of your employees are likely able to afford a $300 dinner, and a $25 gift card will not cut the bite of an expensive meal, which transforms your gift into an additional added expense for your employees.
5. $2 Scratch-Off Lottery Ticket
If your employee wins, they receive a monetary Christmas bonus; but if they lose, you gave them 2 minutes of hope for nothing. In this case, you'd be better off giving your employee a crisp $2 bill and sign the card from Aunt Martha.
4. The Same Gift for Everyone
Could you imagine coming home with gifts for your family and every single gift, regardless of the recipient, was a pair of gloves? You would be known as someone with no creativity, but also someone who doesn't put thought into the gifts they give others. A gift that is the same, across the board, is typically given by someone who doesn't know their employees well enough to consider them individually, or worse, doesn't care to know them individually.
3. A Signature Stamped Card
Nothing says "I am too important" more than a greeting card that is stamped with a name. If your company is too large to conceivably write hand-written cards from the Owner or President, ensure that a real person is signing the card. How about a member of your management team, to which your employees directly report?
2. Christmas (or Hanukkah or Winter Solstice) Day-Off with Pay
If your company is already closed on national holidays, that day off does not count as a holiday incentive to your employees. Send them home with a token of appreciation.
1. Nothing - No Gift, Nada…
Your employees are expecting something from your organization during the holidays, and not giving them a gift or bonus will be detrimental to employee morale, as well as earn you the nickname of Uncle Scrooge. On the other hand, if you've never done anything for your staff during the holiday season, doing so this year (and every year moving forward) will be a great boost to foster a company culture of appreciation!
Make this the year that your staff appreciates you as much as you appreciate them! Avoid cliche gifts and give your employees gifts that will further your company culture of appreciation by creating a gameplan for an ongoing holiday Incentive Program.
C.A. Short Company partners with companies to manage, drive and facilitate increased employee engagement to increase financial performance, productivity, quality, and core performance outcomes. Our process and research-based platform enables executives and managers to engage their teams to increase the bottom line, motivate staff, and incentivize positive behavior. To Request a Complimentary Consultation, click here.