Are Your White-Collar Employees Benefiting from Employee Recognition?

Jeff Ross, CPA, CRP, CSM
While all employee recognition programs should be geared toward engaging and appreciating employees, the culture and climate of your workplace defines how that plays out. White-collar employees (i.e. professional, managerial, and office workers) thrive when their recognition is on-the-spot and fits their day-to-day work.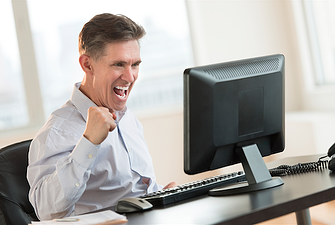 Vroom Expectancy Theory states that individuals will behave or act in a particular way because they are motivated. Motivation is a powerful force in a company. This fact lends itself to an appropriate question: Are you properly motivating your white-collar staff?
Values and Motivators of Employee Engagement
Common values among white-collar employees include:
Recognition
Responsibility
Achievement
Promotion
Common motivators among white-collar employees include:
Security
Status
Supervision
Peer relations
Working conditions
With the knowledge of the common motivators for this culture, an organization can now be empowered to implement an employee recognition program that is built around these factors.
Instant Award Recognition
Modern culture as a whole has changed drastically. Individuals desire on-the-spot recognition for their achievements. Gone are the days of annual awards banquets. Delayed recognition lends itself to a work environment of discouragement and high turnover rates.
As a result, it is imperative that day-to-day employee recognition is at the core of each recognition program. This creates a culture of recognition and increases employee engagement. Given that the white-collar workforce will likely have access to electronic devices throughout their workday, it is a good practice to incorporate this into your recognition. Instant Award Cards, Social Media, eCards, and intranet postings all contribute to the on-the-spot recognition that employees crave. It serves a tangible motivator throughout the day to increase motivation and productivity.
When white-collar employees have the right motivation and feel appreciated, their focus can now be placed solely on achieving goals. Not only will you see an increase in productivity, you might also notice an extra skip in their step.
At C.A. Short Company, we are your partner for increased employee engagement resulting in increased performance outcomes to grow your bottom line. Our process and research-based platform helps you engage your team in order to increase your bottom line, motivate your staff to the benefit of the entire organization, and reward your people for the positive changes they make. To request a Complimentary Consultation, please click here.